Using Phone Apps In Your Eating Disorder Recovery
I'll be honest, when I was faced with buying a new phone a few months ago, a major factor in my decision was the selection of phone apps available for eating disorder recovery. I'd previously had a Windows phone, which offered very little in the way of available apps of any kind, much less for eating disorder recovery. So I finally joined the rest of the world and bought an iPhone. I've spent the last month or so downloading different eating disorder recovery apps and trying them out – here's what I have found.
Compared to when I first started recovering from anorexia five years ago, there are a fair number of apps available now that are targeted toward eating disorder recovery. Even better, the majority of these apps can be downloaded for free. (Because treatment for eating disorders is expensive enough already, right?)
I've spent a significant time using and reviewing apps and am only featuring the two that I've had the most success with here.
Apps Designed for Eating Disorder Recovery
RiseUp + Recover (free; Android and iOS): I discovered this app at their table at the National Eating Disorders Association conference last year and it was the first app I downloaded on my new phone. The app is fairly straightforward and gives you the option on the home screen to log meals, complete a "check-in," and browse coping skills and "extras" like music playlists and a podcast. It is automatically set up to track three meals and three snacks a day with the options to add others, if needed. You are rewarded for each meal or snack you enter with an encouraging or inspiring recovery quote or picture. A particularly helpful feature is the ability to export your meal logs and check-ins and send them as a PDF to your dietitian or therapist. Based on the information section of the app, this is a work in process and they are hoping to expand the features in the future. I look forward to seeing what they add.
Recovery Record (free; Android and iOS): This app has been around for considerably longer and it allows you to customize the app to your eating disorder treatment and recovery goals. It allows you set specific goals for the number of meals, snacks, and a variety of other things. It features meal planning and also enables you to track the number of exchanges you have at meals and snacks if that is something you have included in your recovery plan. When you log a meal, you can set the app to ask specific questions (e.g., about behaviors like restricting, bingeing, and purging) and track certain moods. (As someone with a co-occurring mood disorder this is particularly helpful.) Each meal or snack log is rewarded with a virtual puzzle piece, which when completed features the link for an inspiring or encouraging song. You can access these at any time on the app's dashboard.
[caption id="attachment_3613" align="alignright" width="240"]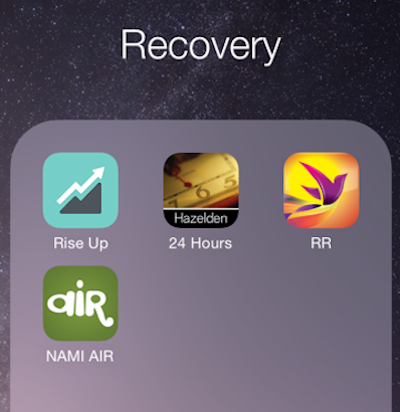 These are the apps I use on a daily basis for my eating disorder recovery.[/caption]
Your therapist and dietitian can link to your Recovery Record app, and keep track of your logs in real time. They can do this through a specially designed clinician app or on the Recovery Record website. This also enables them to send you messages concerning your logs and collaborate with you on your clinical goals.
By far, my favorite feature is the "Scrapbook." By answering questions and completing certain tasks (e.g., logging consistently for three days or reading an informational article) you earn cartoon characters to place in assorted vacation spots. The cartoon characters are cute, but the questions they have you answer really ask you to look deeply at your eating disorder and recovery. I've only completed the first two sets of scrapbook tasks and have already been asked to bust common eating disorder myths, look at factors that maintain my eating disorder, and come up with a list of ways to improve my body image. If you are willing to put in the work, this is the sort outside-the-therapy-room homework that can really make a difference in your recovery.
Don't Limit Yourself to Eating Disorder Specific Apps
Really, the sky's the limit when it comes to choosing apps on your phone that can help in your recovery from an eating disorder. There are great apps for managing anxiety, tracking moods, offering encouraging words, and a host of other things. Some ladies I'm in a recovery group with were talking about apps recently and had these suggestions:
Period tracker: If you're a female, there is no denying that your menstrual cycle will affect your mood, weight, hunger and how you are feeling in general. Knowing the specifics of your cycle can help you recognize patterns and is also important information to have should you ever need to visit a doctor regarding issues. I've found that tracking mine helps me talk myself out of "fat" days by realizing that it's just hormonal or completely normal bloating that will pass.
Coloring apps: A few friends of mine are currently obsessed with Colorfy, a coloring app for the iPhone. I'm more partial to actual pen and paper myself, but the convenience of having a distraction in your pocket at all times cannot be understated.
12 Step: I keep a 12-step app on my phone that is intended for those with alcoholism, but I have found that having a daily reflection (I can simply change "alcoholism" to "eating disorder") provides me with encouraging words, a prayer, and the knowledge that I'm not alone.
NAMI Air: One app that I discovered recently is by the National Alliance for Mental Illness and is an anonymous support app where you can share your experiences and get support from other people. I really like that this one is moderated and will not allow you to say certain things that would trigger others.
Would I still be in recovery from my eating disorder without these apps? Sure, but this makes it a lot easier and helps me to make my eating disorder recovery a priority. If you have the ability to use an app (or four) to help your recovery from anorexia, bulimia, or binge eating, I would highly recommend it.
Have you found any phone apps to help your eating disorder recovery?
Comment below and share your experiences!
APA Reference
Hudgens, J. (2015, July 23). Using Phone Apps In Your Eating Disorder Recovery, HealthyPlace. Retrieved on 2023, February 4 from https://www.healthyplace.com/blogs/survivinged/2015/07/using-apps-eating-disorder-recovery
Author: Jessica Hudgens