Speak Up About Self-Harm: Don't Live in Regret
When you see a person who self-injures, it's important to speak up.
Let me share a story with you. I volunteer for a camp called Camp Good Days and Special Times. I know I've brought this up in my past blogs, but for those who don't know – Camp Good Days is a camp for children and families touched by cancer. I started volunteering for this camp when I was sixteen, during my difficult years. This place was one of the reasons I stopped cutting myself. Seeing children suffering through the disease I survived made me realize I had a reason to be happy and help them.
However, there was one camper who really stood out in my memory. Not just because of her cancer, but because of her arms.
I Noticed the Self-Injury Scars, But Said Nothing
One of my first years volunteering for this camp, I met a girl who was very sick. She wore a red wig and had lots of bracelets on her arms. She was quiet, but I could tell that by being at Camp, she was happy. I got to know this girl and she came to me often, asking me to go to activities with her. However, when I looked at her arms, I saw fresh cuts and scars hiding behind her bracelets. However, I ignored the marks and focused on her happiness.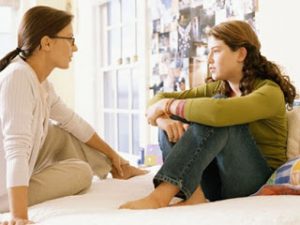 After camp ended, I continued to talk to her and one day on Facebook, she messaged me saying her cancer was terminal. Of course, I was devastated hearing this and instantly planned a trip to visit her. We spent the day shopping and going to Chucky Cheese because, even though she was a young teenager, she still wanted to have some innocent fun. We had a great day and I was so glad I got to spend time with her even though she was suffering.
Not long after, she passed away.
I spoke at her Memorial Service and spoke quickly to her mother, but that was it. I didn't want to take time away from them spending time with family. However, as I left the service, I continued to ask myself why I hadn't spoken up about the cuts I'd seen on her arms. If I'd helped her enjoy the last few days of her life, I could have at least helped her realize that self-harm wasn't the answer.
Talk About Self-Injury, No Regrets
To this day, I wish I'd said something to her. However, I know I can't continue to be angry with myself because the past is the past. What I can do is speak out to those I feel comfortable with who I know self-harm. After speaking to schools about my novel, Noon, I've emailed with people who have admitted they cut themselves. I've answered every email and wouldn't let one go unanswered.
If you know someone who is struggling with self-harm, speak to him or her. Yes, it can be difficult and scary, but if it is something you feel strongly about – do it. I've talked in past blogs about ways to speak to people who you know self-harm. It also depends on the person and the relationship you have with them. Some people take certain conversations differently and you don't want people to think you're attacking them. Think about how they will react and go from there.
Don't give yourself a headache because you don't know what to do for someone who is cutting or burning themselves. Find a way to get to them and show you care. Don't sit around in regret because you didn't do something.
Make a plan of action and go for it.
You can also find Jennifer Aline Graham on Google+, Facebook, Twitter and her website is here.
APA Reference
Aline, J. (2013, October 4). Speak Up About Self-Harm: Don't Live in Regret, HealthyPlace. Retrieved on 2023, September 28 from https://www.healthyplace.com/blogs/speakingoutaboutselfinjury/2013/10/speak-up-about-self-harm-dont-live-in-regret
Author: Jennifer Aline Graham
When I used to cut, the last thing I would want is anyone to talk to me about it, or to try to talk me out of it. I stopped after getting on better meds. Otherwise, I didn't know how to function while feeling so bad. I really thought it was my business- I wasn't out committing murder or anything. I do regret the scars, however. But I think a lot of my life I was depressed enough not to worry about a future life that included scars.
Leave a reply