About Jennifer Aline Graham, Author of the "Speaking Out About Self-Injury" Blog
I am a childhood cancer survivor and have an obsession with vintage typewriters. I have a Mini Schnauzer named Sir Theodore Rufus and still walk like a chicken from dancing ballet for seventeen years. I have a Bachelor's Degree in Child and Family Studies and collect crazy-looking journals everywhere I go. I have a liking for tattoos and sometimes wish I was a Broadway star.
Did I mention I was a cutter?
My Self-Injury Story
My parents' unexpected divorce was really the trigger that set my body and brain into panic mode. Cutting started off as an accident - I was in a bad mood to begin with, got a paper cut, ran upstairs, cleaned it out, put a band-aid on it and forgot why I'd been stressed to begin with. Cutting became a distraction from all my other mental health issues at the time. I'd cut with anything - a bobby-pin, a pen cap, my nails and even the bottom of the paper-towel dispenser. I did use cutting to try to commit suicide, but it was only one time that I tried.
Luckily, and thankfully, here I am.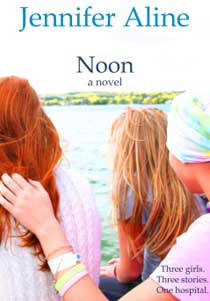 I'm here not just to spread awareness, but to shed light on the fact that those who self-harm are not crazy and out to kill themselves. I struggle everyday with self-harm, even though it has been over five years since I last cut. I have some scars that prove to me my past is my past and sometimes, that bobby pin in my hair gives me anxiety. However, when life tests you - just test life back.
In my novel, Noon, one of the teenagers is in the hospital for attempting suicide. She, too, is a self-harmer and struggles to find coping skills to push her forward. The novel is available on Amazon.com, Nook and Kindle and really shows three stories about teenagers who struggle and push to succeed.
Hopes for the "Speaking Out About Self-Injury Blog"
You can also find Jennifer Aline Graham on Google+, Facebook, Twitter and her personal blog is here.
APA Reference
Aline, J. (2013, May 27). About Jennifer Aline Graham, Author of the "Speaking Out About Self-Injury" Blog, HealthyPlace. Retrieved on 2023, December 8 from https://www.healthyplace.com/blogs/speakingoutaboutselfinjury/2013/05/about-jennifer-graham
Author: Jennifer Aline Graham