There's Always Tomorrow, So Go Easy on Yourself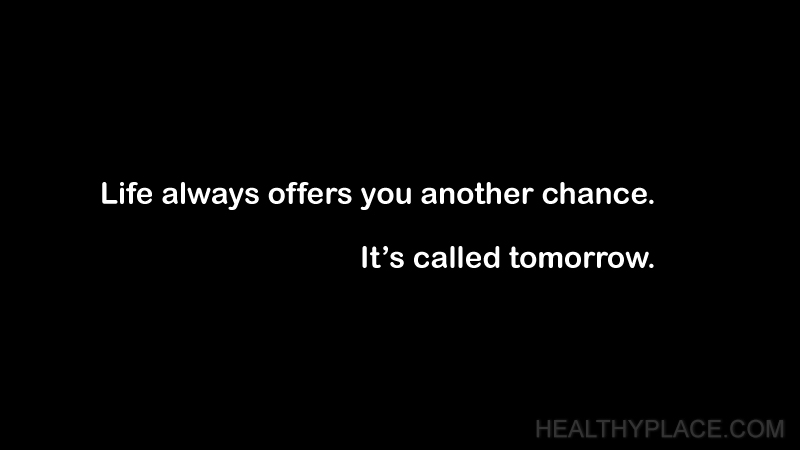 There's always tomorrow. After some tough days at work, I often find myself worrying about what I could have done better. Same thing goes for parenting. Some days I really mess up with Bob. It could be in the way that I talk to him or if I forget something important for him. I put pressure on myself to do my best both professionally and personally. Sometimes, I forget that I don't have to.
Tomorrow Starts With Today
Bob goes through the same thing. Sometimes he has a tough day at school or camp (since it's summertime). I've noticed he's hard on himself, too. Like anyone else (myself included) kids measure their worth by how good they are at an activity.
Bob gets frustrated when he can't figure something out on his own (which keeps him from asking for help) or when he can't come up with a good idea for an essay. I do my best to encourage Bob and let him know that he has another chance to have a great day tomorrow. He doesn't have to be perfect, but he does have to try his best.
I Need to Remember There's a Tomorrow
I tell myself the same thing as a parent. Everyday is a new day; a new opportunity to be successful. I know that every day that I parent Bob, I learn new things or re-learn some things that didn't stick the first time. Or the first hundred times. I give myself a breather.
We parents get so bogged down with negativity - reports from teachers, unsupportive family members or even our own doubts about our parenting. I know I've had doubts about my parenting. Am I making the right decision? Did I say the right thing? Did I scar him for life? (Yes, I do think about that.)
Thinking About Tomorrow Helps
And you know what? I think about the fact that a new day is coming for me tomorrow. A new day for me to be a good mom. A new day to just give myself a pat on the back and a break from doing the dishes. Because we already put pressure on ourselves as parents. We forget that we've got a 'tomorrow' for a do-over. Parenting a child with mental illness is nowhere near easy. I know it isn't easy for me. But, when I remember that I have tomorrow to look forward to, I'm okay.
You will be, too.
APA Reference
Zalamar, H. (2013, July 11). There's Always Tomorrow, So Go Easy on Yourself, HealthyPlace. Retrieved on 2023, December 4 from https://www.healthyplace.com/blogs/parentingchildwithmentalillness/2013/07/theres-always-tomorrow-so-go-easy-on-yourself
Author: Heiddi Zalamar, LMHC, MA
I like this. So often we are too hard on ourselves as parents for not being the best we can be. All we can is try our best and if we feel unsuccessful at that, we can try again. I love your positive outlook on things.
Leave a reply