About Angela McClanahan, Author of 'Life With Bob' Blog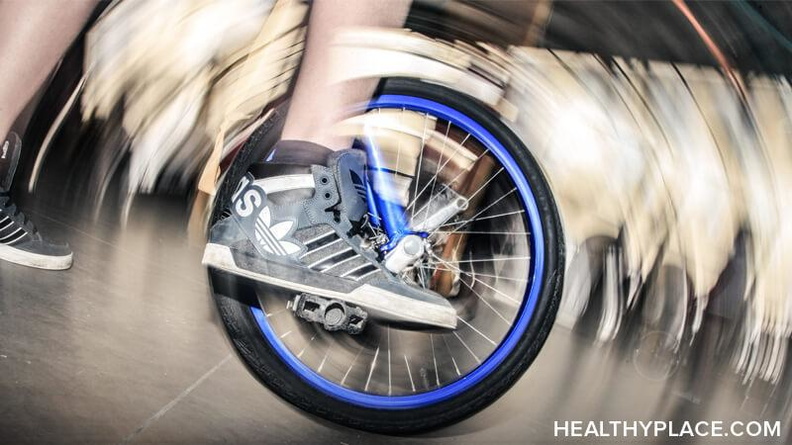 When I began my journey into this wild terrain called "Motherhood," I thought I knew what I was doing. After all, I was a 28-year-old, soon-to-be college graduate with three younger siblings. I had years of babysitting experience and the gifts of critical thinking and research in my arsenal. Having a child surely couldn't be any more difficult than having a puppy, right?
That was almost nine years ago. Boy, have I learned a lot.
My Child Has Bipolar Disorder
Although having a child isn't a whole lot different than having a puppy, there are some distinct differences. When your child happens to have a mental illness, the differences increase exponentially.
Critical thinking and research have come in handy since "Bob" came into my life in 2001, and even more since his bipolar diagnosis in 2008. Being Bob's mom has been a carnival ride full of ups, downs, twists and turns. It hasn't always been fun. It has often been lonely. It has not been what I ever expected.
It has taught me I am not perfect, but I have more patience than I ever thought possible. It has taught me the world has a long way to go in terms of accepting mental illness as real and worthy of attention. It has taught me to appreciate my son for the wonderful person he is and hopefully will become, rather than dwell on what he is not.
Although I have chronicled our journey through various personal blogs, this is my first foray into the open blogosphere. If you are the parent of a child with bipolar disorder, or any other mental illness, I hope you will join me, and take heart in the knowledge that you are not alone.
Life with Bob: A Video on Parenting A Child with a Mental Illness
In this parenting video, Angela talks about the importance of having a blog that speaks to parents of a bipolar child, ADHD child, a child with depression or anxiety. Take a look.
APA Reference
McClanahan, A. (2010, July 26). About Angela McClanahan, Author of 'Life With Bob' Blog, HealthyPlace. Retrieved on 2019, August 23 from https://www.healthyplace.com/blogs/parentingchildwithmentalillness/2010/07/about-angela-mcclanahan
Author: Angela McClanahan
Big hugs to you, Linda. It's important for caregivers to take care of ourselves, too, but often that's easier said than done. Thanks for your comment--please take care of yourself!
Anyone have a direct email contact for Angela? My son is 8 yrs old with ADHD, ODD and other personal challenges which have been evident and escalatind since he was 2-3 years old. His mom is in denial so that makes proper evaluation and treatment on an outpatient basis impossible. I live in Florida and have not been able to identify an inpatient facility for a 30-90 inpatient evaluation because of his age. It seems like 11 years old is the youngest age any facility will accept in Florida. I'm willing to admit for inpatient evaluation anywhere in the country if anyone knows a highly regarded facility or staff. Thanks!
Hi Jeff,
I'm so sorry to hear about your difficulties with your son. We do not have an email address for Angela, and I'm afraid that I don't have many answers for you regarding your question. Have you contacted your local NAMI group (National Alliance for Mental Illness)? NAMI is an excellent contact for mental health resources in your area. They can tell you about the local facilities and doctors, and also provide support groups for parents. I've found NAMI parents to also be an excellent networking resource and very open to helping whenever they can. The Resource page here on the HealthyPlace site has the numbers to reach NAMI. In the meantime, I wish you the best of luck with your son.
Leave a reply