Let Your New Year's Goals Lead You to Happiness
I am a big fan of setting New Year's goals that lead you to happiness. Over the years I've found methods that have helped me be successful in setting realistic new year's resolutions. And reaching healthy goals is a great way to enhance genuine happiness. Achieving goals is also a great way to build confidence, so this year, let your New Year's goals lead you to happiness.
Be Specific When Setting New Year's Goals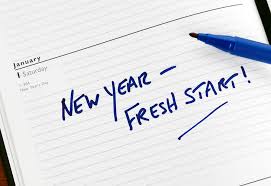 The problem most people have when it comes to goals and resolutions is that they are usually vague. People say they want to lose weight, work out more, eat healthier, or start a blog—but without specific objectives, these goals often fall by the wayside. Instead of wanting to lose weight or workout more, sign up for a half marathon. If you want to start blogging, find a blog you want to write for or a specific topic you want to write about and go for it.
Be specific with your 2016 goals and you will be more likely to succeed in them. It's also important to have reasonable expectations when setting your New Year's goals.
Be Flexible and Forgiving with New Year's Goals
The other advice that I give everyone when setting New Year's goals is to be flexible and forgiving. So you didn't run the half marathon you signed up for—run the next one instead. Be flexible and keep trying. When you don't succeed, forgive yourself. Getting back up from our falls time and time again is how we all cross the finish line in the end.
More Tips on Setting Your New Year's Goals
Watch this video for more tips and advice on your 2016 goals. And let me know how your 2016 goals progress.
APA Reference
Hoskin, A. (2015, December 31). Let Your New Year's Goals Lead You to Happiness, HealthyPlace. Retrieved on 2023, December 7 from https://www.healthyplace.com/blogs/livingablissfullife/2015/12/let-your-new-years-goals-lead-you-to-happiness
Author: Arley Hoskin, CMPS