Trauma Disorders and Cortisol (Part 1): What Is Cortisol?
Last fall, I started reading more about cortisol, an adrenal hormone perhaps best known for its role in the fight or flight reaction. I'd heard a lot of chatter about how we're all drenched in the stuff on account of modern life is like fighting hungry lions only without all the hungry lions. And it occurred to me that if busy work schedules and not enough down-time could produce enough excess cortisol to get medical doctors pushing things like meditation, living with trauma disorders like Dissociative Identity Disorder (DID) and Post-Traumatic Stress Disorder (PTSD) must be as dangerous as battling a pride of hungry lions on the edge of an active volcano during a hurricane.
Cortisol, the Chuck Norris Hormone
Cortisol is awesome. It flushes toxins out of the liver, regulates blood pressure, and calms down inflammation. During acutely stressful situations, our bodies secrete cortisol in higher doses to help aid our survival. Some of us with trauma disorders might have sustained significantly greater injury from rape, abuse, or other traumas associated with Dissociative Identity Disorder and PTSD if cortisol hadn't been there to, among other things:
Desensitize us from pain
Give us extra energy
Temporarily increase our immunity
Heighten short-term memory
It's pretty badass. But the way people have been talking about it lately you'd think cortisol is made of devil's tears and acid rain. What gives?
Excess Cortisol Makes the Baby Jesus Cry
Like just about everything else, too much of a good thing isn't so good. And when cortisol is that good thing, too much of it can cause:
... and so much more.
Trauma Disorders and Cortisol
If you have DID and/or PTSD, that list probably reads as much like your life story as it does mine. Which makes sense when you consider that anyone with DID, for instance, probably spent a fairly large chunk of their early childhood marinating in cortisol. Furthermore, Dissociative Identity Disorder and PTSD are stress incubators – their pathologies foster a remarkably stressful environment. So forget busy work schedules and not enough down-time; just living with one or both of these trauma disorders requires some Chuck Norris level badassery. Which means, in theory, lots and lots of cortisol.
Theoretical Cortisol Is Good Enough for Me
I say "in theory" because though this appears obvious: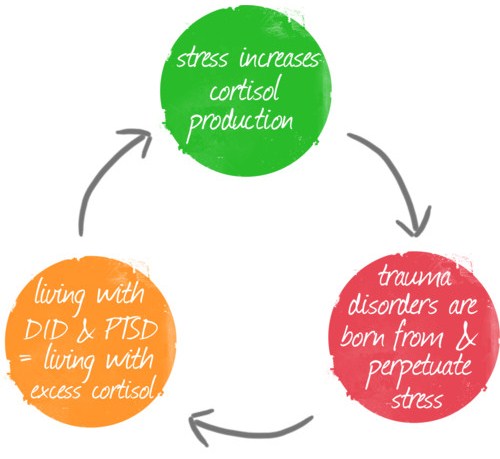 ... it may not be that simple. Some studies show elevated cortisol production in people with trauma disorders while others show cortisol suppression. Even so, I personally experience almost everything related to excess cortisol. And all of it gets worse when my life gets more stressful. So I decided it couldn't hurt to just assume trauma disorders and excess cortisol go hand-in-hand, take inventory of how all that theoretical cortisol affects me, and see what happens (if anything) when I make changes targeted to decrease cortisol production. That last part remains an ongoing experiment and I'll tell you what I've discovered so far. But first, a more in-depth look at how cortisol affects me ... I suspect many of you with Dissociative Identity Disorder and/or Post-Traumatic Stress Disorder will be able to relate to that post.
Trauma Disorders and Cortisol (Part 2): Cortisol Imbalance
Trauma Disorders and Cortisol (Part 3): Managing Cortisol
Trauma Disorders and Cortisol (Part 4): Why It Matters
APA Reference
Gray, H. (2012, July 12). Trauma Disorders and Cortisol (Part 1): What Is Cortisol?, HealthyPlace. Retrieved on 2019, September 19 from https://www.healthyplace.com/blogs/dissociativeliving/2012/07/trauma-disorders-and-cortisol-part-1-what-is-cortisol
Author: Holly Gray