Mental Illnesses Aren't Punch Lines
Yesterday, I came across a picture of a sign I'd taken several months ago while out shopping. The sign was under a display of eye shadow applicators that each contained two different colors and it read, "Split Personality – brings out the best in both of you." Two shades of make-up, one for each personality. I'm sure someone fancied themselves terribly clever when they came up with that. But as much as I loathe the idea of suiting up with the PC police, I have to say that glamorizing Dissociative Identity Disorder to sell beauty products isn't at all clever. In fact, I think that the pervasive use of mental illnesses as punch lines undermines efforts to promote understanding and support for people living with them.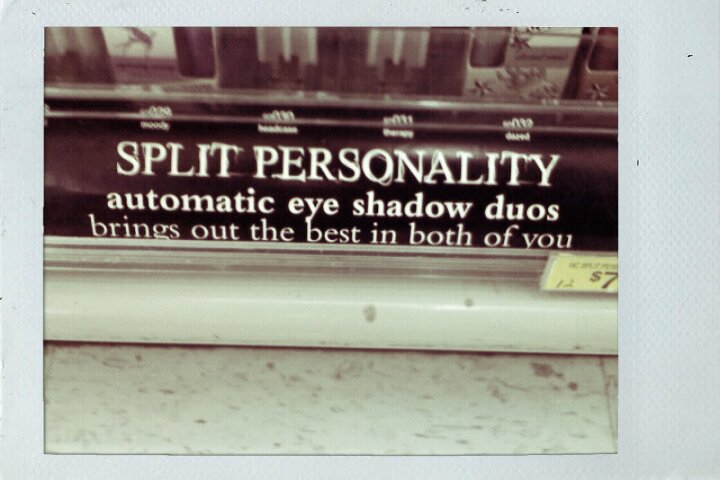 Mental Illnesses as Amplifiers
We unthinkingly create caricatures of mental illnesses all the time:
We say we're depressed when we're actually just disappointed. I have to work on Saturday this week. I'm so depressed.
We use OCD as shorthand for highly particular. Have you seen how organized her closet is? She's so OCD about her clothes.
And Dissociative Identity Disorder gets its fair share of clinomorphisms too. I listen to all kinds of music. My ipod has multiple personalities.
It makes a certain kind of sense and it's not unique to mental illnesses. "Blind" is, for example, perhaps the most overused metaphor for "unable to discern the truth" of them all. And while I'm not convinced using mental illnesses as amplifiers is by nature a destructive thing, I guess I think if something is already stigmatized to a degree that makes people afraid to admit they live with it, it's inappropriate to turn that something into a punch line.
Mental Illnesses Aren't Funny to the People Living with Them
I worked as a waitress in my early twenties and my co-workers made a few jokes about me having multiple personalities. My knowledge of Dissociative Identity Disorder consisted of misconceptions at the time - I didn't know I had DID - and I thought the jokes were hilarious. I went with it, even arbitrarily assigning names to some of my moods. When I think back on it now, I do so with relief that DID is a relatively rare disorder and the chances that someone in that restaurant had it are awfully slim. Because if one of my co-workers did have DID, how do you suppose all that joking around made them feel? We were trivializing and romanticizing a disorder that is so mythologized, so misunderstood, that most people living with it feel they have to hide it. Though we did so unintentionally, that strikes me as crossing a line - the same line that cosmetics company crossed when it appropriated Dissociative Identity Disorder to sell products.
If there ever comes a day when mental illnesses aren't so stigmatized, when acceptance and support are the rule rather than the exception, maybe I'll see the charm of naming an eye shadow Split Personality. Until then, I think it's obnoxious.
Follow me on Twitter!
APA Reference
Gray, H. (2011, April 14). Mental Illnesses Aren't Punch Lines, HealthyPlace. Retrieved on 2019, July 19 from https://www.healthyplace.com/blogs/dissociativeliving/2011/04/mental-illnesses-arent-punch-lines
Author: Holly Gray