Addiction Stigma and Celebrating Mental Health
Early on, I was very aware of addiction stigma and the stigma surrounding mental illness. That's why, even though May is designated Mental Health Awareness Month, I focus on my mental health and reducing addiction stigma every day of the year. This has not always been the case. When I was diagnosed with bipolar disorder and struggling with addiction issues over 30 years ago, I didn't have much to honor. In fact, I pretty much hated life as I knew it.
Addiction, Stigma and Shame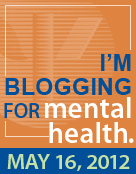 In addition to the self-loathing I experienced, I also lived in fear of what other people would think of me if they knew I was living with a dual diagnosis; addiction and a mental illness.. I did have a few friends who knew but I tended to keep my bipolar diagnosis from most others. Even my own mother tried to keep my mental illness a secret, once again, for fear of what her friends would say.
Finding Acceptance in Recovery
I lived with addiction stigma for many years until I joined a 12-Step fellowship. There, I found a group of people who were willing to accept me as I was, mental illness and all. I was fortunate to graduate from college with a Masters degree and embarked on a professional career. During that period, I met my wife who taught me the meaning of understanding and compassion. Within a couple of months of dating, I disclosed my diagnosis, not knowing what kind of reaction I would get. It was bumpy for a brief while but she eventually was able to see that the bipolar disorder was just a part of who I was. She also was by my side when I had my last manic episode 17 years ago.
Stepping Out of the Shadow of Addiction Stigma
After experiencing a period of stability, I had a yearning to share my story of addiction recovery. I decided that I would no longer walk in the shadow of my disease and face the stigma associated with addiction. I connected with a local children's psychiatric center and started by telling my story to the kids there. At that point, the path was being laid. I continued to speak to groups in my area.
Taking a Leap of Faith
Finally, about 4 years ago I had an epiphany. It was spurred by all the controversy surrounding Britney Spears. I thought, "Why do we always hear the negative stories about mental illness?" So I wrote an op-ed piece for my local paper on the topic. It was a risk, considering that nearly no one where I worked knew anything about my bipolar and addiction diagnosis. As it turned, the article was favorably received.
Since that time, I have decided to dedicate my life to fighting addiction stigma and the stigma of mental illness and educating others about the facts surrounding mental illness and addiction. I no longer fear what people may think of me if they discover I live with a mental illness. I am just one of many that bravely face their illness every day. Recovery is possible.
APA Reference
Shallowhorn, K. (2012, May 15). Addiction Stigma and Celebrating Mental Health, HealthyPlace. Retrieved on 2023, October 3 from https://www.healthyplace.com/blogs/debunkingaddiction/2012/05/addiction-stigma-and-celebrating-mental-health
Author: Karl Shallowhorn, MS, CASAC
[…] still using. This is a common misconception which is a detriment to others being able to recover (Addiction Stigma and Celebrating Mental Health). The more we attach judgments of "good" or "bad" to a person's […]
*Applause* The more we talk the less stigma there is. I just facilitated my first workshop yesterday morning regarding the stigma around mental health and substance abuse.
Thank you for being so brave. The more people follow your lead the faster the stigma will disappear!
Leave a reply