Schizoaffective Disorder and Weight Gain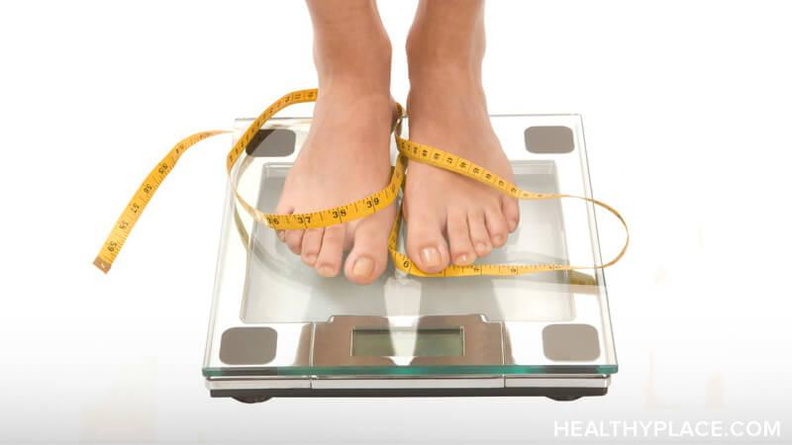 Before I started taking antipsychotics, I was always really skinny -- I had never weighed more than 105 pounds in my 19 years of life. It was part of my identity. So was being eccentric -- a lot of my identity revolved around being what would now be called the manic pixie dream girl. In case you haven't heard of this particular dream girl, think of Zooey Deschanel or Kate Hudson in "Almost Famous." Pretty and petite, yet whimsical and quirky. But now I deal with schizoaffective disorder and weight gain.
The One-Two Punch of Schizoaffective Disorder and Weight Gain
I started taking antipsychotics after my first psychotic episode and packed on the pounds almost immediately. Okay, the episode left me so seriously manic that I dropped to below 95 pounds. I needed some weight – instead, I ballooned to 160 pounds in less than three months. I barely knew my own body - this after a break with reality that left me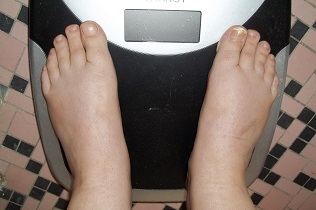 questioning whether I could depend on my own mind. So my diagnosis, first schizophrenia then later schizoaffective disorder -- and the medication that came along with it which made me gain weight -- packed a one-two punch to my self-image. I wasn't adorably quirky, I was ill. And, for the first time in my life, I was overweight.
Weight gain is a common side effect of many antipsychotics used to treat schizoaffective disorder. But I came to peace with the weight gain while taking steps to improve my overall health despite the weight gain. For about a decade (unfortunately the decade I was in college and grad school) I fought the weight. I tried different medications that didn't spike my weight, but they left me crazy and manic. Then I would lose weight in a downward mental spiral.
So, finally, I decided I would rather be overweight and mentally healthy, as long as I watched my sugar intake and exercised so that I didn't develop pre-diabetes. Many, many people on these medications develop type-2 diabetes as a result of not taking care of their physical health.
Schizoaffective Disorder and My Weight Aren't My Whole Identity Anymore
For one thing, I am a passionate feminist, which has really helped me put the weight issue in perspective. Instead of indulging in body image self-pity, why not accept myself the way I am? Also, I can have an adorably quirky sense of humor that doesn't necessarily come from being schizoaffective. My doctor said that as far as being healthy goes, the number on the scale isn't as important as staying active and eating healthy. These days, when I feel down about my weight, I pop in a Margaret Cho DVD. (Margaret Cho is a feminist comedienne who makes a lot of jokes about being overweight.)
I used to love sugared soda (it helped me quit smoking) and now I limit myself to one sugared soda a day and rarely eat candy, chocolate or ice cream. So as long as I'm taking care of my health, I would rather be overweight any day than crazy and manic. And who wants to be a manic pixie dream girl anyway? That is so 2012.
Schizoaffective Disorder Medication and Weight Gain
Photo by Elizabeth Caudy.
Find Elizabeth on Twitter, Google+, Facebook, and her personal blog.
APA Reference
Caudy, E. (2015, February 10). Schizoaffective Disorder and Weight Gain, HealthyPlace. Retrieved on 2023, December 11 from https://www.healthyplace.com/blogs/creativeschizophrenia/2015/02/schizoaffective-disorder-and-weight-gain
Author: Elizabeth Caudy
I have gained 22 pounds in a year. My psychiatrist told me that I may have schizoaffective disorder or OCD. I gained 18 pounds on lexapro and risperidone. I gained 4 pounds on latuda which is known to be weight netural. My parent think that I gained weights because of my sanitary life style and poor eating habit but my life style does not change. I always do not exercise and eat 2 meals a day for my whole life. I think antipsychotics change the way my body reacts to food. I already changed my medication once but I consider about changing my medication. The reason is that I cannot love myself with body I have. I am clinically overweight, and I think I am not sexually appealing to get attention from people I like. However, I am worried about becoming a maniac so I do not know whether I need to change my medication or not. My family is from East Asia so my family members are conscious about weight gain. My mother would be embarrassed if I gain more weight. I cannot give up losing weight because of cultural pressure. I am really exhausted.
I'm impressed, I have to admit. Rarely do I come across a blog that's equally educative and engaging,
and without a doubt, you've hit the nail on the head. The issue is something that not
enough men and women are speaking intelligently about.
I'm very happy I stumbled across this in my search for something concerning
this.
Thank you for the compliments! I'm glad you like this blog! :)
Leave a reply