Simulating Schizophrenia: The World Feels Terrifying in Psychosis
What is it that lies behind the voices, the odd beliefs and strange behavior of paranoid schizophrenia? Most mental disorders are easier to visualize and understand, but this particular one has a pervasive aura of mystery. Though schizophrenia is a disease of the brain there are certain patterns of thinking that are prevalent in the majority of patients. I remember these and why I believed them.
One of my original psychotic beliefs was that a close friend of mine was spying on me. I think of this delusion, which is common within paranoid schizophrenia, not as an isolated fixed belief, but as a piece of a puzzle to an artificial world that my mind wished to create. This world that it created was not built from random irrational fixed ideas, but seemed to follow a peculiar horrific story-line that intertwined in a neat package. This is why I believe it is easier to visualize schizophrenia as an actual place, than as random voices and singular odd beliefs. Which brings me to ask the question; what is this place called schizophrenia?
Simulating The Place Called Schizophrenia
Within the place known as Schizophrenia, every person, place or thing that I met seemed to have but one purpose, which was to evoke the emotion of fear. I was scared of everything and everyone under it's spell. People were out to get me, cameras were spying on me everywhere and even the authorities were in on it. Fear was the thread that tied most of my beliefs together.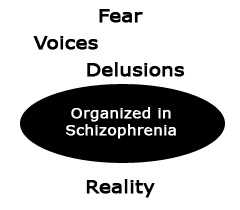 Beyond this particular common emotion, there were also voices which seemed to exist only to further prove my strange beliefs in this odd world. When they spoke, it was usually about the ideas that were in my head at the time. These ideas were seemingly based off of my fears, so my entire existence was terrifying.
Being psychotic is like being trapped between two different worlds. One of these is easily understood by most of us, but there is this other world called Schizophrenia which only 1% of the population can experience. It is a world of fear and dread, and if you are part of the 99% be glad that you will never live in it.
This is psychosis for me, and I can imagine people experience it in a variety of ways that I am unable to understand. This blog focuses on my story, and I am more than happy to hear your experiences with it.
APA Reference
Hoeweler, D. (2012, March 5). Simulating Schizophrenia: The World Feels Terrifying in Psychosis, HealthyPlace. Retrieved on 2023, December 6 from https://www.healthyplace.com/blogs/creativeschizophrenia/2012/03/simulating-schizophrenia
Author: Dan Hoeweler
Thank you, Dan, for your kind words and encouragement. I find some real comfort in your suggestion that perhaps "even in suffering there can be hidden purpose behind it in ways we cannot understand." I generally have always thought that way and found it so difficult to fathom how it could be true for what my brother (and you) had to go through since it's so cruel. I do find comfort in believing that there could be unknown purpose...especially since my brother had such a noble spirit. Thanks again for your reply and your courage/strength to advocate and educate others regarding this insidious brain disease.
Schizophrenia, not an illness - But a Place. Yes, that is it! Us 1 percent get to go to the 2 different places. Psychosis and/or reality...Is it good for us? I dont know. Never being alone and never being bored is that a bad thing?
Ken
Thank you Dan and others for sharing your experiences with Schizophrenia. I am studying to be a mental health professional and I find it critical to hear about your experiences. As you all mentioned, it is difficult for the 99% who do not suffer from Schizophrenia from truly understanding this complex and scary world. I appreciate reading about first-hand experiences and helping me to relate in whatever minuscule way I can to another individual. I think this is such a critical way to bridge the gap between mental health professionals and individuals they are working with who suffer from psychosis. I will never know what it is truly like to live between two worlds, but you have allowed me to take a step closer to being able to relate and develop an even stronger empathetic bond with the individuals I work with. Thank you.
IVE BEEN WATCHING MY SON SUFFER;BEING TORTURED, FOR GOING ON 5 YRS. NOW. I HURT FOR HIM IN A WAY I CANT DESCRIBE ANY WAY OTHER THAN I CRY FROM MY BONES...THATS HOW DEEP THE PAIN IS. I DONT KNOW WHAT TO DO TO HELP HIM. HE JUST GOT OUT OF NAPA STATE HOSPITAL FOR 16 MONTHS, 4 MONTHS PRIOR IN COUNTY JAIL, AND HE RECEIVED NO HELP. THEY PUMPED HIM FELL OF SEVERAL HEAVY DUTY ANTIPSYCHOTICS,ANTIDEPPRESSANTS,ANTIANXIETY MEDS, AND LEFT HIM TO LIVE ALONE IN HIS OWN MIND. NEVER ANY COUNSELING. THEY AGREED TO DO COUNSELING AT A MEETING IN NOV 2011. AT THE END OF JAN 2012 I PUSHED FOR THE COUNSELING (I FEEL ITS IMPARATIVE FOR HIM TO HAVE SOMEONE HE CAN TALK TO)AND ON A MONDAY THEY TOLD ME HE WAS TOO UNSTABLE FOR COUNSELING BY FRIDAY THEY DECIDED HE WAS NOW "COMPETENT" AND WAS BEING SENT BACK TO CO. JAIL. THE JUDGE GAVE HIM TIME SERVED WITH PROBATION. THERE WAS NO FOLLOW UP TREATMENT.ONLY A 30 DAY SUPPLY OF ALL THE MEDICATIONS THEY FELT WERE GOOD FOR HIM. THEY ARENT THE RIGHT MEDS. HE DOESNT WANT TO TAKE THEM. I DONT BLAME HIM.BUT HE NEEDS SOMETHING.LAST NITE WE GOT INTO AN ARGUMENT OVER MY DISAPPROVAL OF HIM SMOKING POT(IF HE TESTS DIRTY HE'S FACING 3 YRS IN STATE PRISON) THE CONVERSATION ESCALATED, HE TOLD ME HE WAS GONNA EAT MY FACE AND PUT HIS HANDS ON MY NECK. MY BOYFRIEND CAME OUT AND HE SOBERED UP FROM HIS ANGER AND LEFT WALKING. WENT TO HIS DADS WHERE HE'LL GET NO HELP OR PROPER DIRECTION. HELL HE DOESNT EVEN HAVE A CAR. I FEEL SO BAD. I WANT HIM TO COME BACK HOME. AFTER READING YOUR VERSION OF SCHIZOPHRENIA BEING A PLACE NOT A THING/ILLNESS IM NOW REALLY FEELING HORRIBLE. I NEED HELP TO HELP MY ONLY CHILD WHO I LOVEMORE THAN ANYTHING OR ANYONE IVE EVER KNOWN. ANY WORDS OF ADVICE ARE WELCOME. PLEASE!
RESPECTFULLY,
JNDS MOM
Schizophrenic psychosis embraces a mental disorder that deteriorates whole psychic apparatus with catastrophic consequence on global life functioning. Th cardinal symptom of this serious mental illness is delusive belive on real life that compromise the other psychic functions begining from emotional performances to other cognitive, behavioral and social deeds. However, individual and personal experinces of any scizophrenic patient are welcomed in order to facilitate the process of recovering and rehabilitation. The same is value for Your genuine experience
My older brother had paranoid schizo-affective disorder. From what I observed over the years, his experience matches how you describe it. It is more like a place (HELL) than a thing or random symptoms. It's all encompassing, enveloping and a place with no escape door. My brother thought his best friends spied and conspired against him. We were closer than any siblings I've ever met in my life and when he questioned me and my intentions, I knew he was very ill. Just as you said...every single thing, person, place, encounter, noise, thought, sound, and memory all evoked sheer terror for him as they all somehow fell within the paranoid, terrifying narrative that his mind created. Car horns and headlights were signaling something terrifying to him. The way a friend followed a hostess at a restaurant signified something threatening to him. He heard children scream his prayers to God at him as he walked by them. He told me streets would look different on different days...as if he was going in and out of different, unfamiliar dimensions. A couple of times he had tirades and ransacked the house and left a huge sign on the door addressing "those" spying on him before leaving the house without my knowing where he went. I was never more terrified than that night. And yet the terror I felt must have been a tiny fraction of what he exprienced every single minute of every single day. I once had a nightmare where I was hearing the most horrifying and deafening screaching/siren type noise. It was absolutely torturous BUT NO ONE ELSE COULD HEAR IT...ONLY I COULD HEAR IT. The fact that no one else could hear, experience or understand something so loud and terrifyngly deafening was probably more torturous and terrifying than the noise itself. I couldn't withstand it for even a minute or two. My brother lived in that place for over a decade. This absolutely breaks my heart to think of how terribly he suffered. I absolutely admire your courage and strength. Thank you for sharing your experience and helping others.
I like the context of the idea of living in two worlds put forward because suffering from Schizophrenia is a world where boredom doesn't exist because you're never alone. When you are able to reconcile with the other residents of the world Shizophrenia opens up, the complexity of your life is tenfold what people who only exist in the regular world experience... great blog.
Leave a reply