10 Ways to Cope with Depression that Work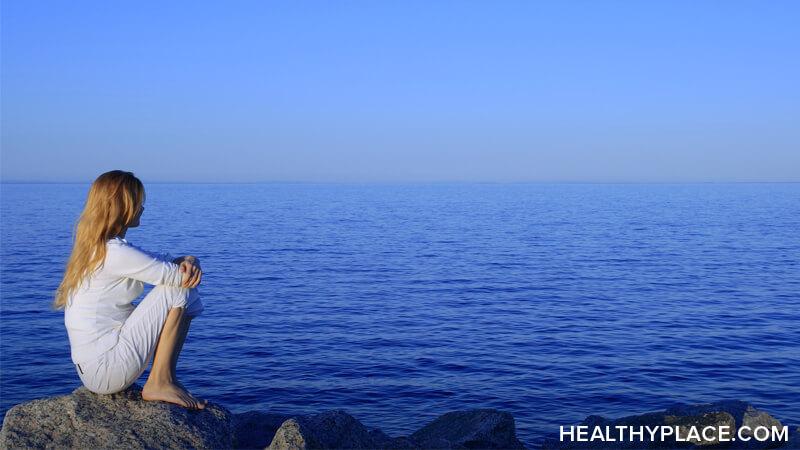 It's difficult to cope with depression. I have dealt with depression for most of my life. While at times it seems that we are helpless to combat this mental illness, the truth is that there are things we can do to help us cope with depression. Here, I give my best advice on coping with depression.
My Best Advice for How to Cope with Depression
Exercise. The importance of exercise cannot be overstated. Earlier, I did a three-part series on exercise and depression, starting with this post: "How Exercise Helps with Depression." Exercise releases endorphins, it gives structure to our days and allows for distraction from our depressed thoughts.
Be mindful. Mindfulness is "paying attention in a particular way: on purpose, in the present moment, and nonjudgmentally."1 When we are feeling depressed, giving attention to the present moment can help alleviate our depressed feelings. It removes thoughts of the past and of the future from our minds, and we are left feeling calmer.
Talk about depression when you need to. There are times when it's important to talk about depression. If you're feeling suicidal, get help now. If you are suffering in silence, talk with a trusted friend or professional. To end the stigma associated with depression, it's important to share your story.
Don't always talk about depression. While giving voice to depression is important, be mindful that at some point, the scales begin to tip and talking about depression isn't helpful.
Use distraction. Distraction from our depressed thoughts can greatly help to improve our mood. Find something you enjoy, and engage yourself in it.
Help others. When we help others, we get our minds off of our own problems and worries. Helping others helps to make the world a better place and helps to improve our moods.
Limit social media. Social media can cause us to feel more depressed. Try limiting your use of social media to improve your mood.
Engage in self-care. When we are depressed, we often neglect self-care. Self-care is so important to stay mentally healthy. When we engage in self-care, caring for our body, mind, and spirit, we will find that our mood will improve.
Celebrate achievements. When we are depressed, doing even small things can be difficult. Celebrating small achievements when depressed can help to inspire improve your mood.
Please check out my video below to see my best advice on how to cope with depression.
Source
Fisher, D., "Mindfulness and the Cessation of Suffering: An Exclusive New Interview with Mindfulness Pioneer Jon Kabat Zinn". Lion's Roar. July 27, 2017.
APA Reference
Sedas, M. (2018, September 20). 10 Ways to Cope with Depression that Work, HealthyPlace. Retrieved on 2023, December 7 from https://www.healthyplace.com/blogs/copingwithdepression/2018/9/10-ways-to-cope-with-depression-that-work
Author: Michelle Sedas
As we live in epidemic era of depression, it is of crucial importance to undertake efficient activities to overcome this mood rupture. Your 10 useful recommendations introduce practical lifestyle habits, that have got positive effects against sorrowful emotional experience, which ones burden whole clinical picture of depression. The most powerful tool to cope with unbearable feeling of depression is our ability to construct optimistic attitude on oneself through active and empathic daily relationships. That's mean to chose and find out supportive and amicable social network, because intrigued and hostile interpersonal relationship are irremissible fault. So, it ought to avoid in distinct way close and frequent relationship with hurtful persons, as far as possible. In this fruitful context, it is of great value to respect the personality of anyone in dynamic social milieu, even the fact that we didn't agree with opinion of any person. Furthermore, this pro-social conduct would make us acceptable and prepossesing person in respective community. However, to accomplish these useful psycho-social deeds, it must take antidepressant therapy, by any experience clinical psychiatrist.
Great piece of information over here.
From my experience, I can say that isolation makes depression worse. Don't withdraw from life. Socializing can improve your mood. Keeping in touch with friends and family means you have someone to talk to when you feel low.
i think these are wonderful suggestions. 3 and 4 absolutely go hand in hand. I also love that you addressed social media, it's an inherent part of most of our daily lives and we can't afford to skip over it. Thank you for sharing this helpful read!
Leave a reply