How to Cope with Obsessive Thoughts When You're Depressed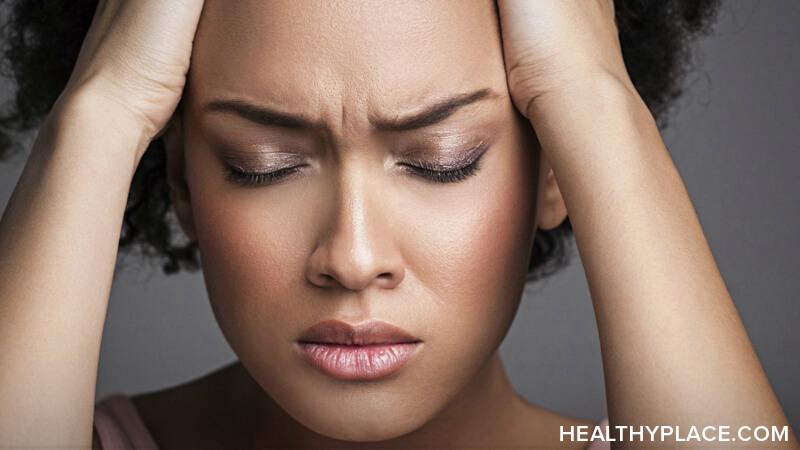 Many people have obsessive thoughts when they're depressed. For me, this is the absolute worst part of depression. Having "pure obsessive-compulsive disorder (OCD)", I deal with intrusive thoughts and obsessive thinking on a daily basis. Learning how to cope with these obsessive thoughts while depressed has been the biggest challenge of my life. In this post, I share what obsessive thinking looks like for me as well as a video on what to do when caught in an obsessive thought storm. 
What the Obsessive Thought Process Can Look Like
When I'm anxious or in an agitated depressed state, I feel that I have to "think the thoughts out" to solve them. It's as if I have to get to the bottom of the thought and exhaust all thinking on that particular thought so my mind will be done with it. I will often write my thoughts out with the (misguided) idea that if I get the thoughts out on paper, then they will be out of my head. In reality, since one thought leads to another leads to another, there is no "bottom thought" that I'm able to get to. I find myself trapped, then, in an endless loop of depressed thinking and writing and rewriting. I figure that if I express my thought perfectly, then I can solve it and finally feel relief. Aiming for perfection, the rewriting of my thoughts can take hours and hours. I remember one writing session, when my obsessive thinking was completely out of control, where I spent five straight hours writing -- no bathroom breaks, no eating. I was just sitting in my bed, typing and retyping and retyping out all of these thoughts that would never end. 
These days, I don't get quite as spun up with my obsessive thoughts. Currently, within the course of a day, I'll still have 10-20 intrusive depressive thoughts enter my mind. Typically, they are of mistakes I've made in the past. As I'm driving, I'll remember something embarrassing I said in the fourth grade and feel flooded with embarrassment. Or, while trying to fall asleep, I'll remember something dumb I did years ago and will be filled with guilt and regret. These intrusive thoughts of mistakes of the past have become a constant for me. 
Obsessive Thoughts Are Not Character Flaws
One thing that has really helped me is to understand that it is my biological makeup causing this intrusive, obsessive thought process. This is not a character flaw; I am not weak. Instead, my mind is just being quirky. There have been times when I have been so upset with myself for obsessing over things. This heightened emotion only brought on more anxiety and more obsessive thoughts. When we are at war with our minds, it can make matters worse. So, be gentle and compassionate with yourself so that you can make the situation better. 
For more ideas on what you can do when caught in an obsessive thought storm, please check out my video below. 
APA Reference
Sedas, M. (2018, August 16). How to Cope with Obsessive Thoughts When You're Depressed, HealthyPlace. Retrieved on 2019, August 21 from https://www.healthyplace.com/blogs/copingwithdepression/2018/8/how-to-cope-with-obsessive-thoughts-when-youre-depressed
Author: Michelle Sedas