Depression Fuels Itself Through Negative Thoughts
Something triggers a bad day. A poor night's sleep. Receiving bad news. Stress at work. Relationship worries. It could be anything. We would hope that if we are going to be upset, it would stick to that one trigger and we can figure it out and get over it. But it doesn't work that way, does it? Depression is a sneaky little monster that whispers negative, depressing thoughts in your ear, feeding and fueling itself, and pretty soon you are not just thinking about what triggered you, you are spiraling, going round and round in your head about every other thing that has ever gone wrong in your life. Depression Monster wins again.

How to Fight the Depression Monster and Negative Thoughts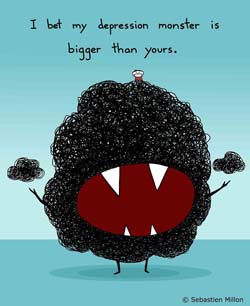 Recognizing that depression fuels itself through negative thoughts is important in fighting back. Sitting in your room, staying in bed, not going to work, laying on the couch, isolating, pulling the covers up over your head…these are the things Depression Monster wants you to do. Because when you give in to it, more and more negative thoughts spin round and round in your head and instead of feeling better, you feel worse; even about things you weren't even thinking about in the first place.
So what's the solution? Get out of your head. Get out of your bed. I know you don't feel like it but changing scenery, getting new air, distracting yourself, will help reset your mind and thoughts. Some people say imagine hitting the PAUSE button. Stop those negative thoughts. When you feel like closing in, giving in to that feeling actually makes it worse not better. Here are some suggestions to help your brain switch gears and get out of the spiral.
• Get in the sun, vitamin D helps
• Go outside for fresh air, breathe
• Take a warm shower, relax
• Exercise. Causes the chemical endorphin to release, natural medicine.
• Write it down, type it up. This uses a different part of your brain and the process moves it out.
• Talk to someone. Just like above, the venting gets it out.
• Help someone. Focusing on someone else can help reduce your over-thinking
• Pray, meditate, deep breathe, visualization
• Watch a movie; go to a movie, read a book. Allows you to get into a story line, shifts gears.
These are just a few ideas to "throw a stick in the spokes" of thoughts that are spinning and spinning. If you have other suggestions, please list them in the comments section for others to see.
Not Avoidance or Repression
I am not suggesting you avoid dealing with your problems. Ignoring them, repressing them, numbing them with drugs or alcohol, sleeping to not think, or hurting yourself to distract from the pain in your head, these are maladaptive ways to deal with problems. They cause new problems.
My goal in addressing this topic is to recognize when depression is spiraling into more negative thoughts and more negative thoughts…and more negative thoughts, and finding ways to recognize it, stop the negative train, and get off before it takes over. Depression often feels like a loss of control, powerlessness, and one way to fight back is to find things you CAN be in control of and take charge. Don't feed that Depression Monster, let's starve him out!
APA Reference
NCC, A. (2012, April 24). Depression Fuels Itself Through Negative Thoughts, HealthyPlace. Retrieved on 2019, September 16 from https://www.healthyplace.com/blogs/copingwithdepression/2012/04/depression-fuels-itself-through-negative-thoughts
Author: Amie Merz, LPC, NCC