Socializing and Depression During the Holidays
Socializing while coping with depression is challenging. As the New Year approaches and various holiday parties ensue, I am feeling the pressures of socializing while depressed because I find this time of the year too emotionally difficult and exhausting. I wrote a couple of weeks ago about surviving the holidays while coping with depression by taking time for yourself during social engagements and doing what makes you comfortable. Here are some other things that have helped me maintain healthy social interactions while coping with depression during the holiday season.
Socializing with Depression Is Healthy in Moderation
Human interaction is healthy in moderation and I highly recommend it. However, the holiday season can take socialization to the extreme with office parties and family or friend get-togethers and all that jazz; and it is wise to pick and choose your social commitments with care. A jam-packed social schedule can wear you down and make the quality of your interactions as bad as canned cranberry sauce, so pick who you say "yes" to with quality in mind. An invitation to a social event is not an instant obligation.
Focus on attending events that will provide enjoyment and energy and politely decline those that will wear you down and create negativity. Take comfort in the fact that you don't have to do anything you don't want to do because socializing is not an obligation.
Set Realistic Socializing Expectations When Living with Depression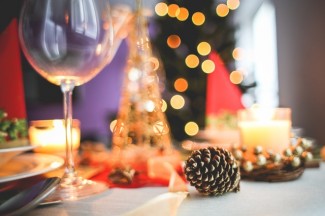 Unrealistic expectations breed resentment and disappointment, which is why it is important to be logical with yourself about what to expect from holiday socializing. Don't feel disappointed in not attending a holiday party every week if you don't even like parties. Don't be upset about not giving gifts to all of your friends if you don't have the money to give gifts. And don't worry about having sad moments because not every second of the holidays is happy. The holiday season is not perfect for anyone and you should not expect it to be.
Everyone has a different insecurity with their social lives. Holiday commercials are the real kicker for me, with their warm, lovely gatherings and the idea that everyone is always celebrating and loving on each other. I have to constantly remind myself that holiday commercials—like every other commercial out there—are unrealistic, grand statements about what life would be like if it was lived in 30-second snippets meant to sell stuff. I don't want that kind of life and I need to remember that nothing is perfect. Honestly managing expectations significantly improves socialization experiences.
Aim for Quality Socializing and Honest Expectations
If you take anything away from this post, take away the important idea that socialization is best when you aim for quality over quantity. It's also important to be honest with yourself when determining your holiday expectations. As long as you take care of your basic needs while enjoying the extra social opportunities of the holidays, you should be able to have healthy, positive social interactions while coping with your depression, ugly sweaters not included.
Find Tiffanie on Twitter, Facebook, Google+, and on her personal blog.
APA Reference
Verbeke, T. (2016, December 14). Socializing and Depression During the Holidays, HealthyPlace. Retrieved on 2023, December 6 from https://www.healthyplace.com/blogs/copingwithdepression/2016/12/holiday-socializing-while-coping-with-depression
Author: Tiffanie Verbeke
I would love to have some social events to go to. I'm facing my first christmas alone. My husband left me as he can't cope with my mental health.
Hi Wendy,
I'm so sorry to hear that. I can only imagine the loneliness and plethora of other emotions that might prompt. Are there any events in coffee shops, pubs, or bookshops around you? I find that these places often host social gatherings for anyone and everyone, and that might give you an opportunity to surround yourself by some good company.
Tiffanie
Leave a reply