Doing What You Love Beats Depression
It's very common to experience apathy and disinterest in the things you once loved when you're suffering from depression. Your depression symptoms, however, don't need to dictate how you spend your time. If you do things you enjoy (or used to enjoy) you can actually reverse some of the damage your hopeless feelings do to your everyday sense of self and well-being.
Do What You Love, Even When You're Depressed
[caption id="attachment_2763" align="alignright" width="200"]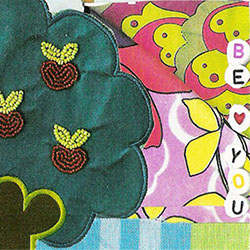 Art by Erin Schulthies[/caption]
I love to read, write, and create art. Doing those activities make me feel at home in the world, a little bit safer and a little bit stronger. It's taken practice to become aware of which activities I enjoy, despite being depressed.
When I was a teenager, too depressed to even go to school, my mom used to encourage me to do some art. It felt like a waste of time but I did it anyway. It helped me pass the time and I felt pleased with having created something at the end of the day.
If you're really depressed, you might not enjoy any activity at all, but if you do what you used to love, that's one of the activities that is going to bring joy back into your life first. Plus, you'll be connecting with yourself outside of your depression. Your depression hasn't stolen your passions from you permanently. Your heart is still there, loving what it loves.
The things we love give us energy, hope, purpose, and meaning - all of these things are great tools in coping with depression.
Keep Track of Your Activities and Feelings Along with Your Depression
Journaling about your activities can help you be mindful of what brings you comfort and happiness. Measure your tension and energy levels before and after an activity to see your progress.
Ask your friends and family when you seem happiest to them. You might be surprised at some of the answers. Be as creative as you can in looking for clues to what you enjoy. Everyone enjoys something, or at least feels less miserable when they're doing an activity that makes them feel grounded and content.
Don't forget to give yourself credit for trying to reconnect with the things you love. Everything you do to comfort yourself and self-nurture while healing from depression is important and valuable.
You're worth it!
You can also find Erin Schulthies on Twitter, Google+, Facebook and her blog, Daisies and Bruises: The Art of Living with Depression.
APA Reference
Schulthies, E. (2014, June 5). Doing What You Love Beats Depression, HealthyPlace. Retrieved on 2019, June 24 from https://www.healthyplace.com/blogs/copingwithdepression/2014/06/doing-what-you-love-beats-depression
Author: Erin Schulthies