I Am Scared - But I Talk About Depression Anyway
Talking about depression can be scary. It was... is... scary for me, too. But I did it anyway. We all must talking about our depression, for ourselves, for our children, and for our children's children.
Talking Points for Talk About Depression Interview
On January 27th, I was interviewed on a late-night radio show about my depression. If you read my blog on January 6th, I wrote about how scared I was and how I had procrastinated answering the interviewer's request for talking points just to avoid dealing with my fear. In that blog, I wrote:
"I'm still afraid to talk about my depression. But I will do it. I must do it. I must do my part to help educate and end the stigma of depression and mental illness."
I set about writing out the talking points. Then, I set a reminder in my phone for the interview and tried as hard as I could to just put it out of my mind. Of course, it didn't go very far, as these things rarely do.
A couple of days before the interview, I told my husband and my son that I was going to be on the radio talking about my depression. They were both tremendously supportive about it though rather shocked that I hadn't told them before. I confessed that I was afraid to tell them in case I chickened out and cancelled the interview. I told them I didn't want to disappoint anybody.
Talk About Depression to Receive Support
They both understood. My husband, after telling me how proud he was that I was going to do the interview, advised me to tell my siblings about it - maybe even tell my parents.
My first reaction was to reject his advice. I was scared that I might say something during the interview that would "out" them. Though they have all battled depression and anxiety in their own right, I knew I would have to be very careful in what I said and how I said it so as not to upset them. Hubby gently persisted over the next day or so. I relented and the night before the interview, I sent them all the information and hoped for the best.
My Talk About Depression on the Radio Really Helped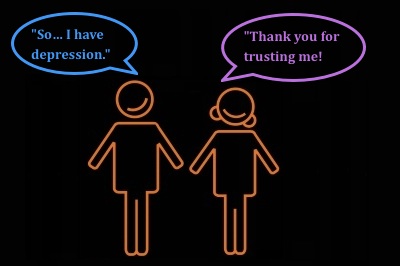 I thought the interview would last about five minutes or so. It lasted over fifteen minutes. I'm glad I didn't know that beforehand or it would have freaked me out! But, you know what? Once I got started, it got easier and easier. And that's the truth about talking about depression altogether. It is so very hard at first, but then, with every person you tell, it gets easier, then easier still. I'm not saying that it isn't scary or that it won't be scary every time you decide to talk about it. If you're like me, you may be scared every time depression is discussed. I highly advise that you push through your fear and discuss it anyway.
At the start of this blog, I wrote that we must talk about depression (and mental illness) for ourselves, our children and our children's children. Well, after the interview (which my son listened to in the car on his way home), he said, while he understands how scary it is for me to talk about my depression, it doesn't bother him at all to talk about his anxiety disorder.
That made me so very happy and proud... of him... and of myself. I was scared, but I talked about my depression anyway. And, I'm so glad I did.
P.S. My siblings were very proud of me as well. One even tweeted about it :-)
Photo by digitalart, courtesy of freedigitalphotos.net
APA Reference
Scott, L. (2014, February 2). I Am Scared - But I Talk About Depression Anyway, HealthyPlace. Retrieved on 2023, December 9 from https://www.healthyplace.com/blogs/copingwithdepression/2014/02/i-was-scared-but-i-talked-about-my-depression-anyway
Author: Liana M. Scott