Psychiatric Medication Doesn't Work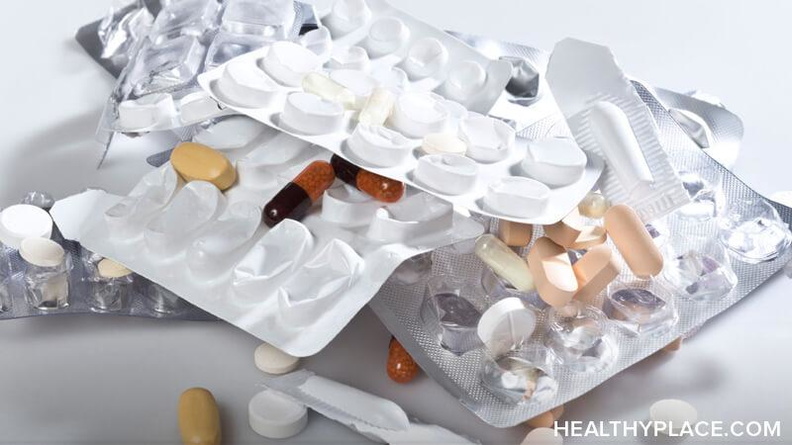 Today I read another article on a reasonable person's assertion psychiatric medication doesn't work. The evidence is thin, they say, and the studies don't always show a meaning difference between the drug and the placebo. According to them, everyone with a mental illness doing better on psych meds is experiencing the placebo effect.
OK, so let's look at this for a minute.
The placebo effect is a real thing that confounds doctors and researches. For some reason some people will get better when given a pill that does nothing. This happens with all diseases. No one understands why.
This is why drugs are tested against placebos. Because if you just say 64% of people responded to the drug, that number doesn't mean anything unless you also know how many people also responded to the placebo, the pill that did nothing at all.
It's bizarrios.
Psychiatric Medication Trials
Drug trials are very specific, controlled things. Only people with condition A as defined on rating scale X and meeting the physical characteristics Y are given the pill. A bipolar medication, for example, might be tested on people with bipolar 1 disorder in their first manic phase while in hospital.
That's pretty darn specific.
Sometimes they get a bit fancier and will test out a drug added to treatment as usual (TAU) which means people who are already on a drug, like lithium, get the new drug added to it. But the TAU can't just be any old thing; it has to be a treatment that falls within the study guidelines.
And more than two drugs? Forget about it. There are way too many variables to account for in that scenario.
When it comes down to it, pretty much no drug has been tested in the situation which the vast majority of people with bipolar disorder (and a smaller number of people with depression) find themselves. Remission for most of us just don't happen without multiple drugs; and clinical testing of endless combinations just isn't reasonable.That's the way the tablet crumbles.
We Don't Have a Clue How Psychiatric Medication Works
And the cold hard fact is we don't know exactly how medications work. Lithium? Been used for perhaps hundreds of years (in some form) and we still have no idea why it works (aspirin was similar until recently). What we do not know is astounding.
The Trouble with Psychiatric Drug Studies
To no one's surprise, drug companies pick a study population they think will respond to a drug. These are not people who have tried six meds without response; these are not people who have been depressed for ten years; these are not people with bipolar with psychotic features. No, these are garden variety folks. It's easier to predict their response and there are fewer variables for which to account.
Additionally, people who are severely ill are rarely in placebo-controlled studies. This is because doctors won't let these people take placebos. They need treatment too badly. To give them a placebo is dangerous and unethical. (And studies have to be approved by an ethics committee.)
Who Benefits From Psychiatric Drugs?
So, in my opinion, the people who benefit most from drugs are the very people they do not study because either they can't or won't. Not to mention getting a drug FDA-approved for "bipolar type II rapid cycling with blue eyes" is a considerably less lucrative proposition than getting approval for straight bipolar mania.
I've Benefited from Drugs
Anecdotes are not evidence, I've said it before and I'll always say it. But I've had three dramatic responses to drugs during my treatment and there is not a doubt in my mind those responses were drug-related and not due to anything else. It is crystal clear to me drugs make my life worth living. I am absolutely certain drugs are pretty much the only thing standing between me and death (or something death-adjacent).
But that's me.
That's not a scientific argument, just a personal one. Drugs saved me. There you are.
Do Psychiatric Drugs Work?
I can't tell you if drugs work, only that some of them, in some combinations, have worked for me. And that's kind of the most important thing.
You can find Natasha Tracy on Facebook or @Natasha_Tracy on Twitter.
APA Reference
Tracy, N. (2011, June 16). Psychiatric Medication Doesn't Work, HealthyPlace. Retrieved on 2019, September 17 from https://www.healthyplace.com/blogs/breakingbipolar/2011/06/psychiatric-medication-doesnt-work
Author: Natasha Tracy
I'm so sorry to hear of your struggles. Everyone seems to have a demon to fight - and fight we will! God is with you, he is FOR you. I'm in the midst of trying to tackle debilitating anxiety and some depression. One book I'm reading that is offering some hope is "The Mood Cure" by Julia Ross. The GAPS diet has had success as well. Meeting with a good, well educated naturopath and having hormone levels assessed is helpful as well. My meds weren't working and I didn't like how I felt, so I'm trying a holistic approach in an attempt to 'balance my body' and if I find I need meds after that, I'll be able to enter that arena with a clean slate and healthier body/hormones. This is a very good, simple DNA test to determine classes of drugs that are best and worst for you. Maybe this could be helpful? Oneome.com
All the best to you - God bless
Leave a reply