Stability in Bipolar Disorder Requires Routine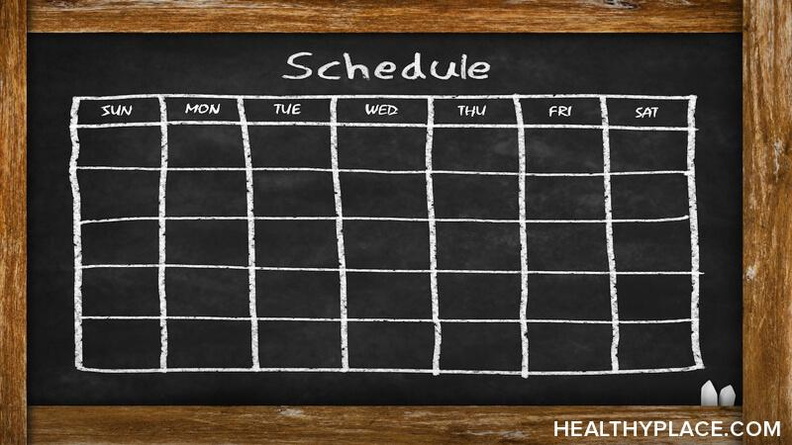 Bipolar disorder, by its very nature, is not routine. People become manic unexpectedly and people get depressed unexpectedly. And during depression or mania, people become even more erratic in all areas of their lives.
So if bipolar disorder exists outside of a routine, what would happen if routine were applied to bipolar disorder?
Bipolar Disorder Requires Routines, a Strict Rhythm
Your average person has a pretty variable rhythm. People get less sleep on weekdays, go out to a party now and then, not getting to sleep until 2AM, sleep in on weekends, sometimes skip breakfast, drink more and less coffee, work more or less hours and exercise at different times during the day. This is not generally a big deal for people. That's just part of life.
The problem is that for a bipolar, it's a very detrimental part of life.
Many of us with bipolar, not to mention the people around us, have noticed that breaks in rhythm result in bipolar episodes. Most noticeable is changes in sleep, life changes and stress leading to episodes. Studies have borne out this observation. A change in life routine does, in fact, often precede an episode like hypomania or mania. A therapy (Social Rhythm Therapy) was designed to address just these points.
What Does Routine Mean in Bipolar Disorder?
I have found the single most important part of attaining and maintaining any sort of stability is keeping a routine. It is highly inconvenient, but nothing causes problems more than varying from it.
Here are some of the factors that should be controlled:
Sleep – go to get at the same time every night and get up at the same time every day – in my opinion this is most important thing you can do for yourself. Even staying up late one night can increase the likelihood of an episode.
Medications must be taken at exactly the same time every day in order to keep a steady blood-level of medication (it goes without saying, keep all doctor's appointments).
Control stress – yup, everybody gets stressed. The important part is trying to avoid stress, lessen it and find ways to deal with it when it comes.
Put effort into maintaining social relationships whenever possible.
Get sunlight everyday – get a sunlamp if outdoor sun isn't possible.
Work consistent hours – shift-work should be avoided.
Exercise every day – this can just be a 15 minute walk, honestly, even that can help.
Eat a balanced diet – if you don't fuel your brain, it's natural that it would be upset
Create a daily routine where as many pieces of your day as possible happen at the same time every day.
Don't drink (or take other drugs). Just don't.
You may find other factors that are important for you.
Strict Routines Suck
Yes, they do. I can't tell you how much I hate doing it every day of my life. But that doesn't mean it isn't worth it.
Is It Really Necessary to Control So Many Things?
In a word, yes. Bipolar disorder is a serious illness that destroys lives. It keeps people from working, it gets people fired, it breaks up relationships, it ruins friendships and on and on. So yes, it's worth putting structure into your life to try to avoid those things, not to mention to avoid all the suffering you, personally, would undergo.
The Great Thing About a Routine
And here's the best thing about creating a routine in your life – it's a drug-free therapy. You can even do it without professional help. In a world of side-effects, toxicity, blood tests, weight gain and co-pays, that sounds like a really good treatment option to me.
You can find Natasha Tracy on Facebook or @Natasha_Tracy on Twitter.
APA Reference
Tracy, N. (2010, September 13). Stability in Bipolar Disorder Requires Routine, HealthyPlace. Retrieved on 2019, July 20 from https://www.healthyplace.com/blogs/breakingbipolar/2010/09/stability-in-bipolar-disorder-requires-routine
Author: Natasha Tracy