3 Ways to Make a Difference for Mental Health This Holiday
Every year, I'm faced with the same dilemma - what do I give to someone who has everything? And, every year, I come to the same conclusion; give in their name to a charity or a non-profit organization. This year, I'd like to recommend three different mental health organizations as possible contenders for your gift.
NAMI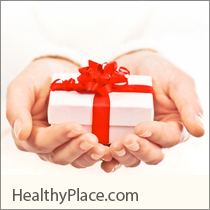 The National Alliance on Mental Illness has my undying gratitude because of the difference it made in my life. When I was first diagnosed, my parents and I were in denial. I finally accepted the fact that I had a mental illness, but my family had no clue how to help. A friend of mine from church talked them into going to a NAMI Family-to-Family class, where they learned how to support me. The class made such an impact that they later started teaching classes.
That's just one of NAMI's many ways to help people with mental illness and their families. According to the organization's web page, NAMI has the NAMI HelpLine (which is an information and referral service), support groups, Peer-to-Peer classes (which teach consumers how to handle their illness), and many other services. Whether you are a family member with a missing loved one with mental illness or you're a consumer in need of some job-hunting tips, NAMI can help.
Mental Health America
Mental Health America is an advocacy organization. Your tax-deductible donation helps the organization break down stigma, push for improved funding for mental health treatment and keep parity and reform at the center of the Affordable Care Act debate. I relied on NAMI and Mental Health America to successfully protest an unfair restraint.
MHA is also a reliable source on information about laws affecting people with mental illness, current research (including complementary and alternative medicine), and state and federal policy. If you need information about any of these, MHA is your source of choice.
If you're interested in hearing about how the Affordable Care Act will effect mental health treatment, MHA has the most abundant source of information I've seen. From fact sheets to online lectures and breakout sessions from the 2013 Mental Health America Conference, MHA answers any question you can possibly come up with. It also includes ways you can advocate for yourself or your loved one.
CrisisChat.org
This is probably my favorite non-profit organization, mental health or otherwise. CrisisChat.org is exactly what it sounds like-a web site with a chat feature to help people in a mental health crisis. The downside is the site is often busy, so the chat feature is sometimes sporadic. That can be fixed with charitable donations.
According to CrisisChat.org, $20 pays for one month of hosting the web site, which also has self-screening tools, information on mental illness and links to other mental health sites. $200 pays for one month of technical support and chat software for one of their member centers. $1,000 pays for a new crisis center, which can answer an additional 1,000 to 2,000 queries from people in need.
More than half of CrisisChat.org's visitors are having thoughts of suicide, and many of these people would get no help other than chat. I've found the site to be useful when my therapist and psychiatrist are unavailable. For some reason, it's easier for me to chat than call a crisis hotline. I'm not the only one who feels this way.
So this Christmas or Yule or whatever you celebrate, consider making a difference for people with mental illness. It's better than yet another tie Dad will never wear or a teapot for Mom.
You can also find Becky Oberg on Google+, Facebook and Twitter and Linkedin.
APA Reference
Oberg, B. (2013, December 4). 3 Ways to Make a Difference for Mental Health This Holiday, HealthyPlace. Retrieved on 2023, June 6 from https://www.healthyplace.com/blogs/borderline/2013/12/three-ways-to-make-a-difference-for-mental-health-this-holiday
Author: Becky Oberg
Such a great idea! Thank you for posting it.
Leave a reply