Veterans and Mental Illness: The War At Home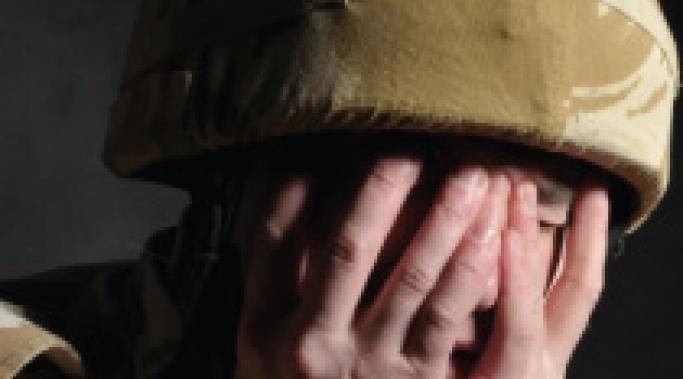 A friend of mine at Wellspring Mental Health Ministries recently e-mailed me some prayers for current and former military personnel. The prayers reminded me of the stigma I faced in the Army for having a mental health condition, and made me think about the struggles veterans with mental illness often face.
Your Life or Your Career
The Army meant a lot to me, and it means a lot to many service members. However, if you develop or worsen a mental health condition, you often face a choice between your health and your enlistment.
When I joined the Army, I was in denial that I had a mental health condition. So were my superiors. My drill sergeant even said "The Army's gonna fix what's wrong with you!" My wake-up call that there was a problem was the beginning symptoms of a psychotic episode. My buddies urged me not to seek help because it would end up on my military record. My drill sergeant threatened me with consequences when I told him something was wrong.
When I finally went to see a psychiatrist, he asked my drill sergeant "Why didn't you bring her sooner?" He also explained that I had a choice between hospitalization and staying with my unit, and that if I went to the hospital my career was over. Long story short, I chose an "Existed Prior to Service" discharge, which meant no benefits and a lot of explaining to do if I put my service on a job application.
Many others are not as fortunate.
Homelessness and Veterans With Mental Illness
According to the National Coalition of Homeless Veterans, about 13 percent of the adult homeless population are veterans. Nearly 40 percent are African-American or Hispanic, and are younger than the average veteran population. Nine percent are between 18 and 30, while 41 percent are between 31 and 50.
"Nearly half of homeless veterans served during the Vietnam era," reads the NCHV web page. "Two-thirds served our country for at least three years and one-third were stationed in a war zone. About 1.4 million other veterans, meanwhile, are considered at risk of homelessness due to poverty, lack of support networks, and dismal living conditions in overcrowded or substandard housing."
Homelessness is complicated, but when it involves veterans, a pattern emerges. According to the NCHV page, 50 percent have serious mental illness and 70 percent have substance abuse problems. The same problem that may have ended their career doesn't go away just because of a discharge.
Incarceration
My friend Hector faced a fate far worse than mine. Hector honorably served as an All-American Airborne during the Gulf War, but developed PTSD. He was lucky enough to get an honorable discharge, but his problems haunted him until he was arrested for a crime committed due to his mental health symptoms.
Hector is not alone. According to NCHV, an estimated 140,000 veterans are currently incarcerated. State prisons hold 127,500 of these veterans, and federal prisons held 12,500. Fifty-four percent of these people reported service during war, and 20 percent saw combat. In federal prison two-thirds of veterans had served during wartime, and one quarter had seen combat. Ready for the surprise? Sixty percent of incarcerated veterans received an honorable discharge.
But Hector's problems didn't end with jail. Hector was born in Mexico and erroneously believed that his service made him a U.S. citizen. He was deported to Mexico with a lifetime ban.
Hector has tried to make something of his life in exile. He has opened a support house for other banished veterans and he is advocating for better treatment for non-citizen veterans. He is building a web site, www.banishedveterans.com to coordinate a network to help all deported veterans.
A prayer for veterans with mental illness
You may choose your own prayer to your own Higher Power, but the prayer from Wellspring goes like this:
"Lord God, Great Physician, reach out your gracious, healing hand and mend the broken bodies, minds, emotions and relationships of our military men and women. Heal their painful memories and the traumas of war. Restore their minds and emotions with peace and clarity. Comfort and sustain those who have lost friends and family members. In your mercy, O Lord, strengthen and speed the recovery of those in treatment; send help and hope to the discouraged and desperate, that they might discover your faithfulness. For the honor and in the name of Jesus Christ, our Lord. Amen."
You can also find Becky Oberg on Google+, Facebook and Twitter and Linkedin.
APA Reference
Oberg, B. (2013, November 5). Veterans and Mental Illness: The War At Home, HealthyPlace. Retrieved on 2021, May 6 from https://www.healthyplace.com/blogs/borderline/2013/11/the-war-at-home-veterans-and-mental-illness
Author: Becky Oberg