The Struggle for Sanity and Sobriety: Dodging Bullets
I just celebrated six months sober. However, I face a new threat--my own indifference. Earlier today, I found myself thinking "Is this it? Sobriety is overrated." It's similar to what people newly on psychiatric medications think--"Do I really need this pill? Do I really need this program?"
It's a bullet I have to dodge.
Stay on the psychiatric medications
When I first went on psychiatric medication at age 19, I was amazed at the result. I could get things done. I had energy. I wasn't sad all the time. My psychiatrist warned me that if I wanted to continue feeling that way, I should stay on the medications. Many people with a psychiatric diagnosis think that they can take the medications for a short time and get over it. That's not the case.
It's like insulin is for a diabetic. You have to stay on the medication and stay in treatment, and even then, you have to carefully monitor your condition. You have a lifelong illness that requires constant treatment, and can kill you if not managed properly.
Unfortunately, circumstances dictated a change in psychiatrists. The new one, a devout Christian, blamed me for some sexual abuse I suffered, so I fired her. However, I stayed on my medication, which was prescribed by my family doctor. With no monitoring, I soon went off the medications entirely, convinced that there was nothing wrong with me except circumstances.
I ended up in the hospital about a month later, fortunately wiser from the experience. Learn from my mistake and stay on the prescribed medications.
Stay sober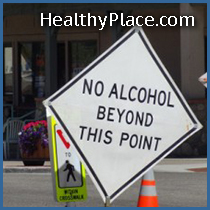 I shared how I was feeling at my AA meeting today. One of the other members told me to ask myself if I honestly missed the chaos of my old life. Once I did that, I found the answer was no. I don't miss throwing up from too much alcohol. I don't miss the hallucinations caused by my medication not working due to my drinking. I don't miss ending up in the hospital every other month. My friend challenged me to think of "boring" as "that sparkling middle place".
Ask yourself the same question. Do you miss the chaos of your old life? While it may be familiar, do you really want to live that way? Or do you want to learn a new way to live?
I've decided that I want to be free to run my own schedule. I've decided that I want to function, keeping a comfortable place to live, food on my table, and be free to enjoy a video game when I want to play it. I want what AA and medication and therapy have to offer and am willing to go to any lengths to get it.
Stay in therapy
Counseling is helpful. I've been in therapy more-or-less nonstop since college, and I've come a long way. Having a sympathetic ear is tremendously valuable when you're struggling with mental illness, whether you just talk about the problems plaguing you or if you learn new coping skills.
Your therapist should work as a team with your psychiatrist and anyone else involved in your treatment. Your therapist may recognize before you do that you need a medication adjustment, which can save you a lot of trouble. Also, your therapist can help you hook up with social services if you need them.
Even if you decide to go off your medication and drink or use, don't quit therapy. Your therapist can help you with those problems, usually guiding you to staying on your medication or staying clean and sober when you'd rather not. Your therapist can mean the difference between an intensive outpatient program or inpatient hospitalization.
Apathy toward recovery is a bullet we all have to dodge at some point in our lives. But dodging that bullet means continued sanity and sobriety.
APA Reference
Oberg, B. (2013, October 1). The Struggle for Sanity and Sobriety: Dodging Bullets, HealthyPlace. Retrieved on 2023, September 21 from https://www.healthyplace.com/blogs/borderline/2013/10/dodging-bullets-the-struggle-for-sanity-and-sobriety
Author: Becky Oberg
I've accepted the need for some kind of medication for life, but I'm not sure about the therapy for life- at least for me. As things go better, I have less to talk about, and I start thinking of other things I'd rather do with my evening. Plus, it is pretty expensive with a high deductible health insurance plan. I recently cut down my visits because I am doing better, not sure how long I will continue.
Leave a reply