Saving Our Soldiers: Mental Health Care in the Military
Recently, I read Harper's Index, and found some disturbing facts. For example, the Department of Defense health care spending is projected to increase by 81 percent over the next two decades. The estimated percentage of its current mental health care budged is 5 percent. Considering that the chance a service member's death is a suicide is 1 in 5 percent, this is inexcusable.
Other facts: one-third of service members are under age 25, but they account for one-half of all military suicides. So how do we prevent these unnecessary deaths?
Step One: Reduce Stigma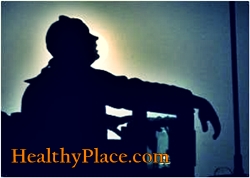 Mental illness stigma is rampant in the military. During Basic, service members are trained not to show any weakness--such as mental illness. Military suicide prevention borders on cruel: confiscated shoelaces, a superior rank screaming insults about the service member's mental stability, threats of punishment, being forced to earn the right to wear your uniform instead of a patient gown.
It doesn't have to be this way.
Currently, only suicide is addressed in the "smart book" Army soldiers are issued. Soldiers are encouraged to watch each other for suicidal behavior and report it to the drill sergeant. Mental illness is viewed as something that happens to other people, not the service member.
If mental illness, especially post-traumatic stress disorder, were addressed as well, it would educate our service members and help lower stigma. If suicide was viewed as something that can happen to anyone, it would increase awareness and help prevent suicide. If it were okay to talk about it instead of worrying about it ending up on your military record, seeking help would be more acceptable.
Step Two: Speak Out
We have to let our service members know that mental illness is treatable and nothing to be ashamed of.
Approximately one in four people in this country has been diagnosed with a mental illness of some kind. That's an awful lot of people. Service members are no exception. It can be argued that service members in combat zones have the world's most traumatic jobs--in that case developing mental illness is understandable. Unfortunately, it is often used by superiors as a reason to discharge the service member and leave them ineligible for benefits.
We have to pressure our elected leaders to put a stop to this. They write the rules for the military. They should be able to put a stop to the abuse of the "Existed Prior to Service" discharge.
By speaking out, we let our service members know that we've got their back. We let them know that we support them in difficult times. By speaking out, we reduce stigma and we make it more acceptable to seek help. We owe them that much.
Step Three: Let Them Know They're Not Alone
During sharing time at my church on a recent Sunday, a psychiatrist at the VA stood up and talked about service members who are seeking help for post-traumatic stress disorder. A common theme is the feeling of isolation--in part because of stigma and in part because of the fear of consequences. Many service members think they're the only ones with PTSD, that they're the only ones who brought the war home with them, that they're the only ones with symptoms.
We need to let them know they're not alone.
We need to allow them to seek out each other for help. We need to encourage group therapy. We need to make counseling available, affordable and acceptable.
We can do this by holding our elected leaders accountable for the culture of the military. We can do this by working with veterans organizations to educate service members about the reality of mental illness. We can do this by demanding a better mental health budget in the DoD's spending. There are many ways--we just need to find them.
Support the troops--give them the care they need!
APA Reference
Oberg, B. (2012, November 20). Saving Our Soldiers: Mental Health Care in the Military, HealthyPlace. Retrieved on 2021, April 15 from https://www.healthyplace.com/blogs/borderline/2012/11/saving-our-soldiers-mental-health-care-in-the-military
Author: Becky Oberg
Thank you for bringing light to the subject. I'm in the military and I suffer from both severe PTSD and BPD. It's hard. I appreciate anyone that fights the fight with me. Valerie
Leave a reply