Borderline Personality Disorder and Dissociation
Many people with borderline personality disorder (BPD) and dissociation as a symptom can hop on the Nowhere Express--in a very dangerous fashion. One of the symptoms of BPD, according to HealthyPlace.com, is "transient, stress-related paranoid ideation or severe dissociative symptoms" (Description of Borderline Personality Disorder). That's a fancy way of saying that when a person with BPD is under a great deal of stress or anxiety, he or she can dissociate. He or she experiences an "altered state of consciousness characterized by partial or complete disruption of the normal integration of a person's normal conscious or psychological functioning" (Wikipedia). Translation: detachment or distancing from reality. The Nowhere Express takes borderline personality disorder patients to the land of dissociation, and this can be quite dangerous.
What Does Dissociation with BPD Feel Like?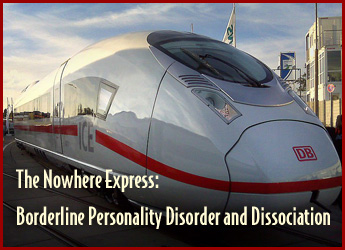 I have borderline personality disorder and dissociation happens to me often. I simply go to a void in my mind, a place of ultimate nothingness. Only I exist there--a silent blackness surrounds me. Once there, I basically operate on autopilot. I feel like I'm watching a movie. I'm aware of what I'm doing, but it seems distant. I later can not recall what happened.
Symptoms of dissociation can vary. "Dissociation is most commonly experienced as a subjective perception of one's consciousness being detached from one's emotions, body and/or immediate surroundings," Wikipedia notes. Furthermore, "Under normal conditions, consciousness, memory, emotions, sensory awareness, affect, etc., are integrated; with dissociation, in contrast, these traits are discretely compartmentalized to greater or lesser degrees."
Sometimes amnesia is a symptom of dissociation, other times not. What is common, however, is feeling disconnected.
How Can I Stop Dissociation Linked to BPD?
One trait of BPD is self-injury (SI)--often people with BPD in a dissociative state will self-harm in an attempt to reconnect with reality, to feel something instead of nothing. This is a negative coping skill, and we should avoid it. So what other attempts can bring us back once we've hopped on the Nowhere Express?
Our body, in a physiological sense, often needs sensory input to be aware of its place in space. Consequently, anything affecting balance or pressure on joints can serve as a way to reorient the self. Examples of this might be jumping in place, doing wall push-ups, stomping or other heavy motions.
Sometimes a strong sensation might help. An example would be eating garlic, smelling hot sauce, or holding an ice pack on the skin. The sensation can jolt you back into reality--without cutting or burning.
How Can I Face Dissociation With Borderline Personality Disorder?
Facing dissociation means facing trauma. It is crucial--I can not emphasize enough how vital--that anyone facing dissociation has a set of positive coping skills.
The first step is accepting that you dissociate. Dissociation is not, as originally thought, a cognitive weakness resulting in a psychiatric breakdown. It is a way to psychologically numb intense pain. It is a defense mechanism and survival skill. Acknowledge the pain you may not feel right away.
This does not mean you have to like it. For example, I have large gaps in my memory of childhood. I am not happy about this, but I have made peace with it. I have accepted that I went through a series of traumatic events and my mind is blocking it out in an attempt to protect me. I have accepted that when I am in a stressful situation, memories of the trauma try to come back, and I dissociate in an effort to stay safe. While I do not have the ability to face my traumas at this time, that does not mean I never will. I am okay with that.
Second, you need to know the way back. A dissociative episode can be dangerous if untreated. For example, one time I came to my senses in an off-track betting parlor and bar. I've also wandered around downtown Indianapolis at night alone. Thankfully I've been safe, but these are situations that can quickly turn bad. You need to be able to reconnect before something happens. One thing that works for me is playing video games--it lowers my stress level, which helps guide me back to myself.
Finally, you need to accept that what happened wasn't your fault. No one asks to be traumatized, just as no one asks to black out due to a dissociative episode. There is a peace--which I am still struggling to find, incidentally--in realizing that the past only has as much power as you let it. There is a strength in surviving. Find and encourage this strength--then move on. You will find that you don't need the Nowhere Express to survive. Dissociation does not have to be a part of borderline personality disorder.
APA Reference
Oberg, B. (2011, October 31). Borderline Personality Disorder and Dissociation, HealthyPlace. Retrieved on 2019, July 22 from https://www.healthyplace.com/blogs/borderline/2011/10/the-nowhere-express-borderline-personality-disorder-and-dissociation
Author: Becky Oberg