About Becky Oberg, Author of "More Than Borderline" Blog
I think the name "More than Borderline" is an excellent name for the blog, especially since so many mental health professionals will dismiss people with Borderline Personality Disorder (BPD) as "just a borderline".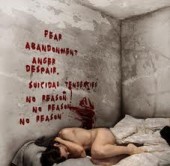 As for me, I was hospitalized for depression for the first of many times in 1998, while a sophomore at Baylor University. After graduating with a B.A. in journalism, I returned to my native Midwest and was diagnosed with borderline personality disorder, possibly as a complication of post-traumatic stress disorder. Simply put, I was stuck in my past and destroying my future to survive my present. One therapist even told my family--in front of me--"She'll drift in and out of institutions her whole life until they're tired of treating her."
Desperate to avoid filling that prediction, I moved to Indianapolis to get more comprehensive mental health treatment. However, I did not know how to manage my BPD symptoms, and the stress of living on my own made things worse. Eventually, I was placed on the wait list for the inpatient BASE (Borderline Awareness and Skills Empowerment) program at Larue D. Carter Memorial Hospital. However, while waiting to be admitted to this program, a psychiatrist made a mistake that nearly cost me my life. When I demanded an explanation, he replied that he'd assumed I was just a borderline, just trying to get attention--after all, that's what the last borderline he'd treated did.
I was in the BASE program for nine months. The program was so effective that within a year of my discharge, I was living in a cluster apartment and working as a freelance health reporter.
More About Me and the More Than Borderline Blog
My Borderline Journey: I've Learned A Lot Along the Way
I know the mental health system well, and I know how to advocate. I know what it's like to be denied medical treatment because of mental illness, what it's like to lose a friend to suicide, what it's like to be denied insurance due to mental illness and what it's like to be kicked out of a church because of mental illness. My Ph.D. from the School of Hard Knocks has enabled me to fight back--both on behalf of myself and others.
I am deeply involved in my faith community and consider it a blessing. My hobbies include reading, writing (poetry, fiction and non-fiction), playing video games, and shopping at farmers markets and fair-trade stores.
You can also find Becky Oberg on Google+, Facebook and Twitter and Linkedin.
APA Reference
Oberg, B. (2010, September 27). About Becky Oberg, Author of "More Than Borderline" Blog, HealthyPlace. Retrieved on 2019, September 20 from https://www.healthyplace.com/blogs/borderline/2010/09/about-becky-oberg
Author: Becky Oberg
Thank you for sharing. Yeah, the military definitely attaches a stigma to mental illness. At the hospital they told me "Once you end up here, you're enlistment 95 percent of the time is over."
Thank you. Sadly, the church is often not a sanctuary for people with mental illness. But I believe the more people who speak out and tell their stories, the more that will change.
Hola! Este articulo, no, pero escribo uno articulo de semana.
Leave a reply