One Anxiety Trigger
Many things seem to trigger people into panic attacks: a sound, sight, smell, or sensation that reminds someone of a past trauma, anticipation of a perceived fear (such as, knowing you have to sleep alone when your partner is out of town next week), a physical sensation (nausea) or a certain emotion (feeling overwhelmed, guilty, embarrassed). However, when I talk to people about the details in the moment before the panic attack, what invariably happens between this trigger stimuli and the panic is a fleeting thought -- one that people hardly realize as it crosses their mind. This is the anxiety trigger.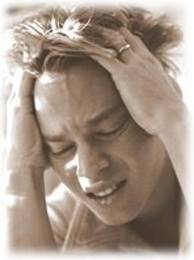 Oh no! I think I am going to get anxious right now!
It goes something like this: "Oh no here it comes." Or "Oh no what if I get anxious right now?"
If we weren't afraid, it would just fizzle out. If we thought, I might panic, cool beans! It couldn't come. If we said, "Bring it on!" It would stop the panic attack in its tracks. However, people, like me, who have experienced panic, know how horrible it feels and are afraid of it coming. We fear it taking our sanity as its prisoner. We feel stripped of our abilities and our confidence to 'handle' it. The fear infiltrates our very identity, taking over who we are, making us forget everything we know about ourselves and the world. We become Anxiety and loose ourselves. Fear becomes our time piece as we waste many minutes, hours, and sometime days to its control. We feel out of control to stop it, powerless to effect the agonizing discomfort, frantic for relief from its torments.
There are two common forms Anxiety takes.
The first form, I will call 'temporary' anxiety. This is not to suggest the alternate anxiety is permanent. (Remember this: All anxiety is transient!) Rather, I use the term "temporary" to describe how the person feeling the anxiety senses it. They expect that it is temporary. They know they will be okay again once the anxious moment passes. In this form, the panic steals our present, making us desperate to be other than where we are, as we wish for advancement in time when the feeling has already past. But there is less suffering in the panic, since we know it will pass and we will be alright again. I argue that this less fearful view actually helps us get through it faster.
The other form is the expectation that it is permanent or very long lasting. It is fearing that we may never be okay again. In the moments when fear exists, these folks picture themselves freaking out at all future events. It is scary to think we will feel like this again, and again, and again, with little or no hope for relief. The fear intensifies like the snowball effect, making us more afraid, which makes us more afraid, which makes us more afraid. Anxiety feeds on our fear, it needs us to be afraid for it to keep hold of us.
Stand up, face your fear and say, "Give me the best you got! I am not afraid of you!" and watch Anxiety slink away with its tail between it's legs. Trust me, (trust yourself) it works.
Tell me if you ever tried this! What happened?
By Jodi Lobozzo Aman
I blog here: Heal Now and Forever Be In Peace
and here: Anxiety-Schmanxiety Blog,
share here: Twitter@JodiAman, Google+
inspire here: Facebook: Heal Now and Forever Be in Peace,
Get my free E-book: What Is UP In Your DOWN? Being Grateful in 7 Easy Steps.
APA Reference
LCSW-R, J. (2012, March 7). One Anxiety Trigger, HealthyPlace. Retrieved on 2019, August 19 from https://www.healthyplace.com/blogs/anxiety-schmanxiety/2012/03/one-anxiety-trigger
Author: Jodi Lobozzo Aman, LCSW-R
Joe! I'll answer this is in my post Wednesday since I want to take time to reply thoroughly and have it available so more people can see it.
Warmly,
Jodi
There is usually a reason, I will try to write about general anxiety next week!
Panic attacks as you said are usually triggered by something. Same trigger doesn't always lead to the same reaction? What creates the intensity or frequency of the panic attack when triggers are the same? Is it the general situation?
Yes, I would say, without hesitation, stress. Stress–in all forms-makes us feel vulnerable and will increase frequency.
Leave a reply