Panic Attacks: Why Do They Feel This Way?
Do you know what a marmot is? A marmot is an animal very much like a gopher and for our story we could choose a gopher, a mouse, an elephant or even a camel. It doesn't matter -- they all respond the same. I chose a marmot because I like them.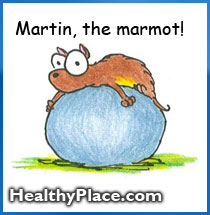 On a sunny afternoon, Martin, the marmot, was out for a stroll when the shadow of an eagle passed overhead. Martin didn't have to stop to think that an eagle looking for a meal was bad news because through years of evolution, Martin's brain was preprogrammed to respond immediately to the threat. Martin didn't give any conscious thought to what was going on around him. His body automatically prepared Martin for the danger and he was out of there at top speed to find a safe place. As long as that eagle was out there, there was no way that Martin would feel comfortable coming out of his hole.
If Martin could have looked inside himself, he would have noticed adrenalin was being released; more blood was being diverted to the muscles; respiration rate increased; heart rate increased; the pupils of the eyes had opened wide to let more light in and to give him more acute vision, etc.
Martin knew he was all hyped up and he knew the reason why. That was enough for him. He was just staying put until the danger passed. When the danger was gone his body would again return to a more relaxed mode and Martin could get on with his sunny afternoon stroll. The automatic reaction had saved Martin. That was its purpose -- to prepare him to run or fight so he could live to run or fight another day.
And a very useful purpose it is too.
A very long distance away in a place completely unknown to Martin was a woman named Terri. Terri didn't know anything about Martin either. But that didn't matter; even though Terri knew nothing of Martin she had a great deal in common with him. She had a heart, lungs, legs and a mouth -just to name a few things. In fact, well over 75% of Terri's genes were the same as those which made Martin into what he was. They had much in common and, yes, she even had almost identical genes to those in Martin which made him act as he did when the eagle flew over his head.
Terri was just getting out of her car when a big barking dog started running toward her. The dog didn't look friendly and those very same genes that were in Martin, took over in Terri. Her heart started to beat faster, she began to breathe more rapidly and the blood was rerouted so that most of it went to her muscles so she could run or fight. Terri bolted back into her safe place -- her car --and slammed the door shut. Soon the owner came and took the dog away.
The thinking part of Terri's brain now took over and as she realized the danger was past her body started returning to normal. With the dog safely gone, Terri could now get out of her car with no problems. The danger was past and she felt quite safe.
Just a few blocks away from Terri and the dog was a man named Luke. Luke was just leaving his office. Luke didn't know anything about Martin or Terri; he had never heard of them. That didn't matter. But Luke still had those same genes including the ones that made Martin and Terri go to battle stations. What were not there were the dog and the eagle. In fact, there was nothing there that should have told Luke it was run or fight time.
As Luke stepped out of his office he began to feel strange. He started to breathe faster, he could feel his heart pumping in his chest. The lights bothered him and the walls seemed to be folding in on him. "This isn't right", said the thinking part of his brain. "There is nothing here that should be causing this."
Knowing this made Luke feel even worse. Luke became very afraid there was something seriously wrong with him. So serious that he was afraid he was going to die. Things didn't get any better for Luke. Pains developed in his arms and chest, his hands and lips felt all prickly and his legs began to feel very strange and wobbly. On his rubbery legs Luke returned to his office chair, sat down, didn't feel much better. By now he was starting to sweat, feeling like he was not really there and becoming even more afraid.
Luke was so afraid he had someone call an ambulance for him which took him to a hospital. After many tests Luke found he had just had his first panic attack --and a real whopper it was too.
What Martin, Terri and Luke had in common was a normal body chemistry reaction to a frightening situation. The difference was, of course, there was no outside reason for Luke to suddenly go to "battle stations".
Many professionals feel that a panic attack is a normal response to a very dangerous situation but without there being anything dangerous to trigger it. The body has just gone into to panic mode on its own and the person has no more control over it than had either Martin or Terri.
I have come to believe, to some extent, that if a person can think through what is happening to them during a panic attack, they can break the cycle of becoming more afraid thus causing even more panic. That doesn't work for everyone but, as a support person, it will be useful for you to know what is behind the strange feelings.
In the table below, I listed the symptom and gave the major cause. Of course, they are all interrelated but I just wanted to keep it simple.
Hope this information helps.
Ken
| | |
| --- | --- |
| SYMPTOMS | CAUSES |
| Heart Pounding | Heart speeding up to move blood and oxygen faster. |
| Breathing faster | Obtaining more oxygen for the muscles |
| Chest pain | Muscles tightening. |
| Rubbery legs | Blood supply building up in the legs/decreased oxygen to the brain |
| Feeling of Dissociation | Less blood going to the brain and/or some think a trance state is almost reached. |
| Bright lights are disturbing | Pupils have opened for more acute vision |
| Walls are bending inwards | An effect of the pupils opening wide |
| Sweating | The body is harder to hold onto in a fight |
| Numbness in hands | Due to the diversion of blood to the muscles |
| Tingling in mouth | A result of hyperventilating |
| Choking sensation | Due to muscle tension |
| Shaking | Due to muscle tension |
next: Supporting A Person With an Anxiety Disorder
~ all anxiety disorders caregiver articles
~ anxiety-panic library articles
~ all anxiety disorders articles
APA Reference
Staff, H. (2007, February 23). Panic Attacks: Why Do They Feel This Way?, HealthyPlace. Retrieved on 2023, December 6 from https://www.healthyplace.com/anxiety-panic/articles/panic-attacks-why-do-they-feel-this-way
Last Updated: July 1, 2016