Schizoaffective Disorder in My Family - Video
A diagnosis of schizoaffective disorder is rare, but it is one of the most challenging disorders to live with. For the person who suffers of schizoaffective, and the family and friends around.
If someone in your family suffers of schizoaffective disorder, you and your family, no doubt, are facing challenges, emotions and concerns about schizoaffective disorder. Susan Inman, our guest on the HealthyPlace Mental Health TV Show, talks about her own experience with her daughter ´s schizoaffective disorder.
Watch the video on schizoaffective disorder in the family right here
All HealthyPlace Mental Health TV Show Videos and Upcoming Shows.
Share Your Thoughts or Experiences About Schizoaffective Disorder
We invite you to call our number at 1-888-883-8045 and share your experience in dealing schizoaffective disorder. Have you or a loved one been diagnosed with schizoaffective disorder? How does it affect your life? How does the rest of the family react to it? (Info on Sharing Your Mental Health Experiences here.)
About Susan Inman, our guest on the schizoaffective disorder video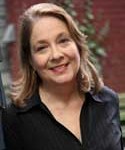 Susan is a 60-year old secondary school English teacher, mother of two daughters. Her younger daughter suffers from schizoaffective disorder since she was fifteen. Susan has written numerous articles on topics related to serious mental illnesses. She is currently vice-chair of the Family Advisory Committee (FAC) of Vancouver Coastal Mental Health Services (VCMHS).
Susan is the author of After Her Brain Broke, Helping My Daughter Recover Her Sanity, where she  describes the long process to help her daughter (called Molly in the book) rebuild her life. You can read more about Susan and her book here: http://www.bridgeross.com/brainbroke.html
---
---
back to: Thought Disorders Community Sitemap ~ browse all HealthyPlace TV Show videos
APA Reference
Tracy, N. (2010, April 29). Schizoaffective Disorder in My Family - Video, HealthyPlace. Retrieved on 2019, May 19 from https://www.healthyplace.com/thought-disorders/videos/schizoaffective-disorder-in-my-family
Last Updated: 2016, July 14