Schizophrenia Movies, Films and Documentaries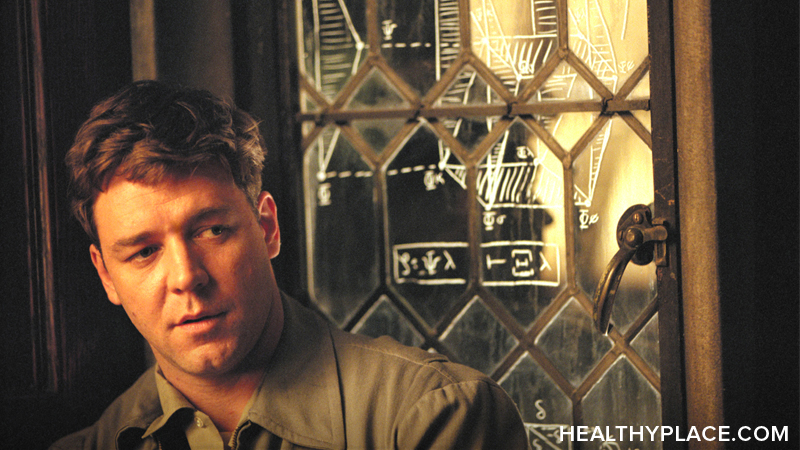 Movies about schizophrenia and other mental illness abound in both the independent and major filmmaking industries. These movies provide exposure to the public about the realities of mental illness, specifically schizophrenia, which helps reduce the persistent, strong stigma surrounding these disorders.
Check out these schizophrenia films, featuring characters dealing with the disorder and its impact on those around them:
A Beautiful Mind – Ron Howard directs and Russell Crowe and Jennifer Connelly star in this Oscar winning movie telling the true story of Nobel Prize Winner, John Nash's struggle with schizophrenia. The film journeys through his battles, ending in Nash's eventual triumph over the devastating effects of the illness.

The Soloist – A screen adaption of the true life story of Nathaniel Anthony Ayers (played by Jamie Foxx), a previous student at the Julliard School of Music, who plummets into the dark world of schizophrenia. A reporter, Steve Lopez (portrayed by Robert Downey, Jr.), befriends Ayers, changing the course of their lives forever. This schizophrenia film accurately depicts the still-present ethical issues regarding treatment of and attitudes toward those with mental illness.

Revolution #9 – A schizophrenia film that accurately depicts the torment experienced by a young man, Jackson, as he descends into the depths of the devastating mental disorder. Jackson has paranoid delusions that his girlfriend's nephew is communicating with him by sending mysterious and disturbing messages via the Internet. Once diagnosed, the man insists that everyone in his life, including his doctor have collaborated in a conspiracy to destroy him. He refuses to take his medication and rejects those who love and care for him.

Benny & Joon – This 1997 film, starring Johnny Depp and Mary Stuart Masterson, tells of the positive possibilities available to those suffering from schizophrenia. Unlike similar movies, this film has an underlying theme of happiness, love, and independence. Directed by Jeremiah S. Chechik.

Through a Glass Darkly – An award-winning Swedish film dating back to the mid 1960s, stars Igmar Bergman with schizophrenia. One of the first movies to mention schizophrenia by name, the story tells of the young woman's plight and relates the strange family dynamics in which she exists. Format is black and white with English subtitles.

Donnie Darko – A group of adolescents, including Donnie who takes medication for a mental illness, presumably schizophrenia because of the delusions he experiences throughout the film, ends inconclusively. Only those over the age of 18 should view this film, which includes very mature themes and scenery.

Angel Baby – A brutally realistic film, shot in Australia, tells of a romantically involved couple, both of whom suffer from schizophrenia. People who have had experience with schizophrenia should probably avoid seeing this movie as the sadness and realism may prove too disturbing for them to handle. Due to very mature and disturbing scenes in the film, those under the age of 18 should not view it.
The selected schizophrenia documentaries and educational films listed below represent only a few of the numerous quality, journalistic movies about schizophrenia available.
People Say I'm Crazy – A movie that offers a unique viewing experience when it comes to schizophrenia documentaries. This film begins by documenting a college senior's treacherous battles with schizophrenia. The student, John Cadigan, experiences a psychotic breakdown, indicating the onset of the disorder and causing him to drop out of school. This movie about schizophrenia is the first of its kind, shot and produced by a person actively dealing with the illness and depicting the chaos inside his mind.

The Torment of Schizophrenia – This poignant video represents a more scholarly and academic look at the disorder, amidst the sea of schizophrenia films more appropriate for the layperson. The video reveals the ever-persistent therapeutic treatment challenges faced by psychiatric physicians giving care to these tormented patients. Appropriate medical doctors and non-doctoral healthcare professionals down to the layperson with a working knowledge of the illness, the film discusses warning signs, available treatments, psychotic episode phases, and various professional approaches to helping patients to function independently.
The Public Broadcasting Services (PBS) educational programmers have produced several informative and educational schizophrenia documentaries, available at most public libraries. Titles include: West 57th Street, A Brilliant Madness, Secret Life of the Brain, and The Teenage Brain: A World of Their Own. People wishing to purchase these films can do so at the PBS Web Store.
---
---
next: Schizophrenia in Children: Symptoms, Causes, Treatments
~ all articles on schizophrenia movies and people
~ all schizophrenia articles
Last Updated: July 14, 2016