Building Better Business Relationships
Sunday, November 5, 2006
Building Better Business Relationships
So, what about business relationships? They are important too.
Since 1987 I have been presenting business relationships seminars nationwide. There are several ways to maintain your business relationships. One of the best is through networking.
To begin, let's look at a carefully worded definition of business networking. . .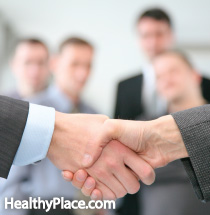 Networking is. . . using your creative talents to help others achieve their goals as you cultivate a network of people strategically positioned to support you in your goals. . . expecting nothing in return! - Larry James
Having a clear understanding of the definition of networking is a prerequisite for networking success. What you put out to the universe, always comes back to you! Disappointment may follow if you expect a return from the person to whom you have contributed.
Networking is about building supportive personal and business relationships; it's consistently meeting new people and making new friends, sharing ideas and having lots of fun in the process!
Making a commitment is often most difficult when you are not sure of what you want to accomplish from your networking adventures. That is why the first commitment is so important.
Commitment #1 - Blueprint Your Life! - No Purpose. No Goals. First, define your purpose. Know Purpose! Know Goals! Design your future by setting goals. Decide what you want.
Commitment #2 - Accept Responsibility! - Be accountable to yourself for the choices you make and for the consequences of your actions.
Commitment #3 - Be Coachable! - Listen for and be open to new ideas and suggestions others in your network of support may offer.
---
---
Commitment #4 - Show Up! - Be places that count. Make an encounter. Don't expect a quick fix. Get involved in charitable and community projects, but choose wisely. Not all events will be valuable to you. Be seen. Attend business and professional meetings. Networking opportunities are everywhere! Begin local, then expand nationally.
Commitment #5 - Be Yourself! - Demonstrate your own authenticity. Be unto others as you would have them be unto you. Be real.
Commitment #6 - Pay attention! - Look for opportunity! Talk 20% of the time! Listen 80% of the time!
Commitment #7 - Contribute! - Be the solution! Networking is contribution; it's helping others help themselves! Allow others to contribute to you!
Commitment #8 - Ask For What You Want! - Tell people what you need. They can't read your mind.
Commitment #9 - Say "Thank You!" - Express appreciation. Acknowledge others for their contribution to you. Be creative with your gratitude!
Commitment #10 - Stay Connected! - Be in touch! Network on the phone, by e-mail and frequent notes. Never forget the people in your network of support and never let them forget you!
Now. . . get out there! How much networking you do is up to you. It's a good idea to put some effort into expanding your collection of contacts all the time. Don't wait until you need something. You must first give. The getting comes second!
Always remember the five most important words you can say while networking:
How may I help YOU?
There are two types of people - those who come into a room and say, "Well, here I am," and those who come in and say, "Ah, there you are!" - Frederick Collins
APA Reference
Staff, H. (2008, November 29). Building Better Business Relationships, HealthyPlace. Retrieved on 2023, December 5 from https://www.healthyplace.com/relationships/celebrate-love/building-better-business-relationships
Last Updated: May 14, 2015