Questions, Questions and More Questions
After you have had a few dates with someone and you think it might be going somewhere, you begin to ask more serious questions about their childhood, family, job etc.
Eventually the relationship might progress to where the really tough questions must be asked. Like "have you ever slept with someone without using a condom" or "how much debt do you have"? There is no easy way to bring up these questions.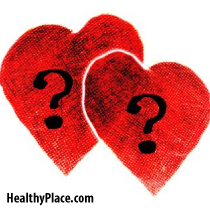 Recently, I received a copy of Michael Webb's newest book, 1000 Questions for Couples: What You Absolutely Must Know About the Person You Are With. This book is going to make those difficult questions much easier to ask.
The questions start off easy like "Has anyone dear to you died? How did you handle it" and "About what things are you most selfish." They slowly progress (just like your relationship should) until you get to those questions that you simply can't avoid if you are going to commit your life to living with someone.
There are questions on drug addictions, abuse, child rearing, finances and lots of questions about sex. And because these questions are coming from a book, you don't feel like "you" are asking them.
A special bonus that I really liked was the option to get 3-5 of the book's questions e-mailed to me each day. That way I could forward the questions on to my beloved and we could each read over them and forward the answers to each other that night. I can see where this would be very valuable for those in long distance relationships too.
Although I am married, I found questions in this book that I had not yet asked my wife. What a terrific opportunity to get to know her even better.
It is estimated that 83% of failed relationships could be prevented if couples asked each other the right questions. Are you among the 17%?
While there are a lot of questions in this book that are crucial for couples in the dating stage, the majority of the questions are useful for people who are already married. If you value your relationship, I encourage you to ask these "1000 Questions for Couples."
---
---
Relationship Questions
Here are three relationship questions (out of 1,000) from award-winning writer Michael Webb. You should definitely know how your partner would answer these questions, or, if you don't, you should at least find out by asking him/her. Click here to read about all 1000 questions couples should ask each other.
Relationship Question #1
If you could live one year of your life all over again without changing a thing, what year would you choose? Why?
This is a variant on everyone's favorite fantasy where they get to go back and relive part of their lives and change things. But that fantasy focuses on our future-oriented thirst for the power to make our lives better. This question appeals more to our aesthetic sense about the past. Which year of your life did you appreciate the most, enjoy the most, find most exciting, find most interesting? This can tell you a lot about a person.
Relationship Question #2
Do you prefer receiving expensive gifts or a gift from the heart?
This question doesn't need much explanation. It's the difference between Zora and Sarah on Joe Millionaire. If you didn't watch that show, then it's the difference between a gold digger and a true romantic. Between diamonds and flowers.
Relationship Question #3
What first attracted you to me? How has that one attraction changed since then?
The first part of this question is fun to ask. The second part is difficult to answer. But you'll have to admit that, if you can get an honest answer, the question should reveal a lot about the foundations of your relationship.
Again, these were three relationship questions (out of 1,000) from award-winning writer Michael Webb.
next: The Dating Daze!
APA Reference
Staff, H. (2008, December 4). Questions, Questions and More Questions, HealthyPlace. Retrieved on 2023, December 3 from https://www.healthyplace.com/relationships/celebrate-love/questions-questions-and-more-questions
Last Updated: May 22, 2015