Networking: Making the Right Connections
Networking is. . . using your creative talents to help others achieve their goals as you cultivate a network of people strategically positioned to support you in your goals. . . expecting nothing in return! ~ Larry James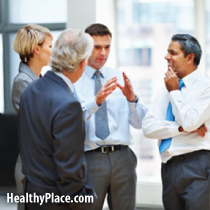 This #1 business seminar will leave you with a powerful freedom to expand your personal and business network in partnership with others. You will discover your ability to generate long-lasting relationships, ready to act in concert with others, multiplying your own effectiveness.
One seminar participant reported a 38.6% increase in her business in just five short months as a result of Larry's networking seminar! Another reported a $1700 per month increase in income within four months! Too busy to network is too busy!
With the emphasis on personal development and career management, Larry clearly defines his unique version of networking and how to work the system for maximum benefits.
In this seminar you will learn. . .
The distinction between networking and prospecting
How to network for a bigger bottom line!
How to develop a network of support.
How to create visibility and get known in a way that will put your career on "Fast Forward!"
How to create an effective "30 second connection" or self introduction and why it must be a priority.
How to get more mileage from your business card, plus numerous business card tips.
How to break through the fear of self-promotion.
How to commit the perfect "prime." Networking's magic question!
How to successfully manage network mingling.
How to network with people, groups of people and networking groups.
How to put more fun and excitement in your life!
How to connect with people who make a difference (with a little help from your friends!)
Why it pays to talk to people in elevators! (One of Larry's personal experiences)
Networking Do's and Taboos!
---
---
This high-content seminar is more than a seminar about networking, it's a seminar designed to help people be the very best they can be both personally and professionally.
One participant said, "I thought I knew what networking was until I learned how to power connect the Larry James way!"
Available in a two or three hour seminar format or as a 45 minute keynote called, The 10 "Commitments" of Networking
More on this subject: Making Relationships Work: Personally and Professionally
next: Celebrate Love Homepage
APA Reference
Staff, H. (2008, November 11). Networking: Making the Right Connections, HealthyPlace. Retrieved on 2023, December 8 from https://www.healthyplace.com/relationships/celebrate-love/networking-making-the-right-connections
Last Updated: June 5, 2015