To Get Out of Bed with Depression Use This Checklist
Here's what's happening on the HealthyPlace site this week:
---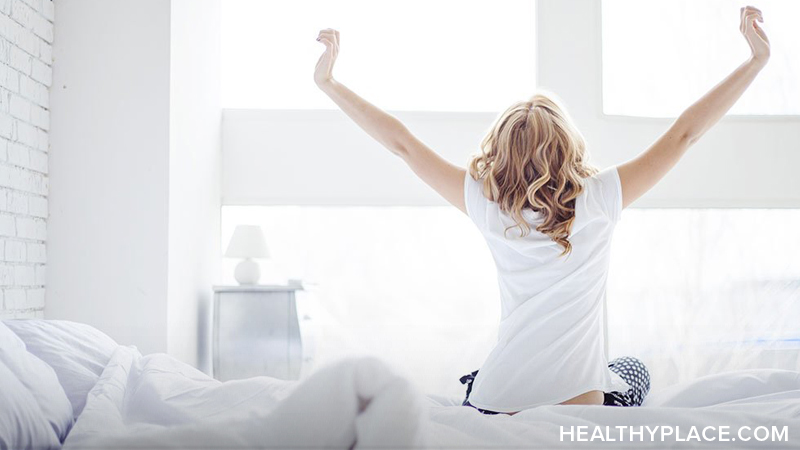 To Get Out of Bed with Depression Use This Checklist
Clinical depression (major depression) is an illness that interferes with thinking, planning, and energy levels. It can be hard to do even basic things like getting out of bed or off the couch (and staying that way). When you have depression, using a checklist can make getting up and staying up possible.
Keep the checklist by your bed and use it every day to make getting up and staying up a habit. Hint: prepare what you need ahead of time to make the steps easier.
Get your blood flowing. Stretch arms, legs, and torso. Roll your wrists, ankles, and neck.
Breathe slowly, deeply.
Continue to stretch and breathe while you drink the glass of water you placed beside your bed.
In the notebook beside your bed, write one reason you have for getting up. Repeat it out loud. (It's okay to write this ahead of time so in the morning you only need to read it.)
Stand up and make your bed immediately.
Reward yourself with tea or coffee from a favorite mug or something else you enjoy.
In using this checklist for getting out of bed with depression, you can take action without thinking and planning, showing depression that you can function well no matter how it tries to interfere.
Related Articles Dealing with Getting out of Bed
Your Thoughts
Today's Question: Do you have tips for getting out of bed despite depression, anxiety, or other mental health challenges? We invite you to participate by sharing your thoughts, experiences, and knowledge on the HealthyPlace Facebook page.
From the HealthyPlace Mental Health Blogs
On all our blogs, your comments and observations are welcomed.
Feel free to share your thoughts and comments at the bottom of any blog post. And visit the mental health blogs homepage for the latest posts.
------------------------------------------------------------------
Most Popular HealthyPlace Articles Shared by Facebook Fans
Here are the top 3 mental health articles HealthyPlace Facebook fans are recommending you read:
If you're not already, I hope you'll join us/like us on Facebook too. There are a lot of wonderful, supportive people there.
------------------------------------------------------------------
Mental Health Quote
"Your feelings are valid. You have every right to feel whatever you feel. You aren't exaggerating. You aren't being too. sensitive. You aren't being dramatic. You aren't hurting. And that's okay."
Read more depression quotes.
------------------------------------------------------------------
That's it for now. If you know of anyone who can benefit from this newsletter or the HealthyPlace.com site, I hope you'll pass this onto them. You can also share the newsletter on any social network (like facebook or stumbleupon) you belong to by clicking the links below. For updates throughout the week, follow HealthyPlace on Twitter or become a fan of HealthyPlace on Facebook. Also, check out HealthyPlace on Instagram, YouTube and Pinterest, where you can share your mental health pins on our Share Your Mental Health Experiences board.
APA Reference
Peterson, T. (2019, October 21). To Get Out of Bed with Depression Use This Checklist, HealthyPlace. Retrieved on 2023, December 11 from https://www.healthyplace.com/other-info/mental-health-newsletter/to-get-out-of-bed-with-depression-use-this-checklist
Last Updated: October 22, 2019