How Do You Know If You Have A Mental Illness?
HealthyPlace Mental Health Newsletter
Here's what's happening on the HealthyPlace site this week: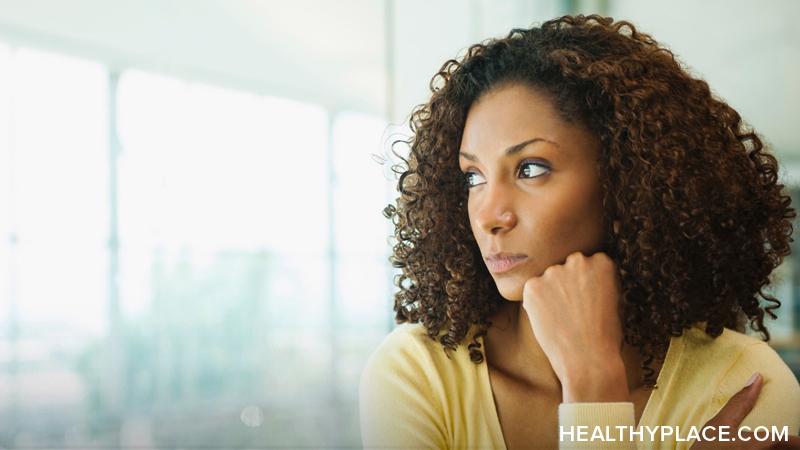 How Do You Know If You Have A Mental Illness?
Have you ever fretted about your mental health, asking yourself, "Do I have a mental illness?" You're not alone if you have. Life can be stressful. Sometimes we experience anxiety. The very act of being anxious can create a new worry: "Do I have an anxiety disorder?" Do you like things in perfect order? Have you had a friend or family member tease, "You're so OCD"? Perhaps you've been sad for a while. Do you wonder if you have major depressive disorder or simply the blues?
Occasionally experiencing some symptoms of a mental illness doesn't mean that someone is mentally ill. To be diagnosed with a mental illness, someone must meet specific criteria. While each mental illness has unique symptoms, there are standard hallmarks a person must experience in order to be diagnosed with any mental illness. According to the Diagnostic and Statistical Manual of Mental Disorders, Fifth Edition, to qualify as a mental illness, symptoms must
Impair thoughts, feelings, and behaviors—the whole person
Disrupt life (work, family, school)
Exist even when there isn't a stressor present
Endure and cause distress and dysfunction over time
If your symptoms and experiences fit these criteria, talking with your doctor can help you answer the question, "Do I have a mental illness?"
Related Articles Dealing with Wondering About Mental Illness
Your Thoughts
Today's Question: If you've ever worried that you might have a mental illness, what things made you suspicious? We invite you to participate by commenting and sharing your feelings, experiences and knowledge on the HealthyPlace Facebook page and on the HealthyPlace Google+ page.
---
---
Share our Stories
At the top and bottom of all our stories, you'll find social share buttons for Facebook, Google+, Twitter, Pinterest and other social sites. If you find a particular story, video, psychological test or other HealthyPlace feature helpful, there's a good chance others in need will too. Please share.
We also get many inquiries about our linking policy. If you have a website or blog, you can link to any page on the HealthyPlace website without asking us beforehand.
Most Popular HealthyPlace Articles Shared by Facebook Fans
Here are the top 3 mental health articles HealthyPlace Facebook fans are recommending you read:
If you're not already, I hope you'll join us/like us on Facebook too. There are a lot of wonderful, supportive people there.
------------------------------------------------------------------
From the HealthyPlace Mental Health Blogs
On all our blogs, your comments and observations are welcomed.
Feel free to share your thoughts and comments at the bottom of any blog post. And visit the mental health blogs homepage for the latest posts.
------------------------------------------------------------------
Stand Up for Mental Health
Thousands Have Joined the Stand Up for Mental Health Campaign
But we still need you. Let others know there's no shame in having depression, anxiety, bipolar disorder, trichotillomania, OCD, ADHD, schizophrenia or any other mental illness.
Join the Stand Up for Mental Health campaign. Put a button on your website or blog (buttons for family members, parents, mental health professionals and organizations too). We also have covers for Facebook, Twitter and Google+.
------------------------------------------------------------------
Latest Mental Health News
These stories and more are featured on our mental health news page:
Mom's Favorite Child More Likely To Be Depressed
Resilience-Based Interventions Could Curb Depression In LGBT Youths
Medicine Used To Treat ADHD May Also Help Patients With Post-Traumatic Stress Disorder
Mindfulness Training Helps Patients With Inflammatory Bowel Diseases
Being Moody May Help Us Adapt To Change
Right Side Of Brain Compensates For Speech Loss After Stroke, Study Finds
Study: Strength Of Brain Connectivity Varies With Fitness Level In Older Adults
That's it for now. If you know of anyone who can benefit from this newsletter or the HealthyPlace.com site, I hope you'll pass this onto them. You can also share the newsletter on any social network (like facebook, stumbleupon, or digg) you belong to by clicking the links below. For updates throughout the week:
APA Reference
(2015, November 19). How Do You Know If You Have A Mental Illness? , HealthyPlace. Retrieved on 2023, September 29 from https://www.healthyplace.com/other-info/mental-health-newsletter/how-do-you-know-if-you-have-a-mental-illness
Last Updated: November 20, 2015