Finding it Hard to Manage Things? It Could be Adult ADHD
What's Happening at HealthyPlace This Week?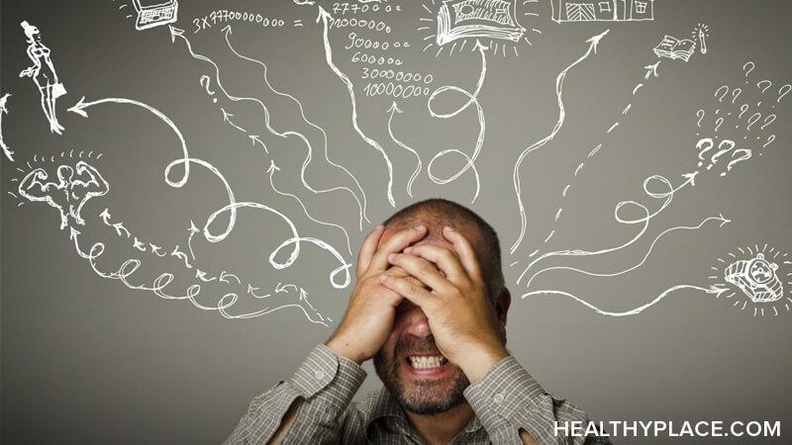 Do you find yourself frequently overwhelmed, frustrated, and angry? You could be stressed, or perhaps you are living with undiagnosed adult attention-deficit/hyperactivity disorder (ADHD). Left untreated, adult ADHD interferes with life, leading to snowballing difficulties that are highly stressful. Stress, in turn, exacerbates symptoms of ADHD. Knowing the symptoms of ADHD can help you better understand yourself and manage the effects of it to improve the quality of your life.
ADHD could be affecting you if you're experiencing difficulties at work, home, and in your relationships and are experiencing symptoms such as difficulties with:
Organizing your thoughts, to-do lists, living and working spaces
Prioritizing tasks or knowing how to begin projects
Tardiness
Concentrating
Restlessness, jumping from one task, project, or concept to another quickly and before you've completed requirements for a different task
Impulsiveness, often making hasty decisions or actions
Time management, feeling stressed and busy and unable to get things done
Boredom
If these are familiar and are making life stressful and difficult, you may be among the 2.5 percent of adults who live with ADHD. This disorder begins in childhood, and evidence of ADHD before the age of 12 must be present for an official diagnosis. For many adults, this can be tricky to document.
Still, talk to your doctor. They may be able to help you treat and manage your symptoms so you can take control of your life and mental health.
Source: American Psychiatric Association. (2013). Diagnostic and statistical manual of mental disorders (5th ed.). Arlington, VA: American Psychiatric Association.
Recommended Video
Do you have ADHD and consider yourself a late bloomer? Is that really a negative thing to be? Learn why feeling bad about where you are in life compared to your friends is pointless. Watch.
Related Articles Dealing with Adult ADHD
Your Thoughts
Today's Question: How do you overcome your biggest ADHD frustrations? We invite you to participate by sharing your thoughts, experiences, and knowledge on the HealthyPlace Facebook page.
---
Job Opening: Blogger for 'Debunking Addiction' Blog
We're looking for someone who has lived experience with addiction who is willing to share those experiences with site visitors. Check out the Debunking Addiction blog and apply at Mental Health Bloggers Wanted.
---
From the HealthyPlace Mental Health Blogs
On all our blogs, your comments and observations are welcomed.
Feel free to share your thoughts and comments at the bottom of any blog post. And visit the mental health blogs homepage for the latest posts.
---
From the HealthyPlace YouTube Channel
Being rejected can lower your self-esteem -- but it doesn't have to do that. Learn how Will, an actor, overcomes his battles with lowered self-esteem after rejection. Take a look.
Subscribe to the HealthyPlace YouTube channel
---
Most Popular HealthyPlace Articles Shared by Facebook Fans
Here are the top 3 mental health articles HealthyPlace Facebook fans are recommending you read:
If you haven't already, I hope you'll like us on Facebook too. There are a lot of wonderful, supportive people there.
---
Quote on Addiction and Recovery
"When you can stop, you don't want to. And when you want to stop, you can't. That's addiction." 
Read more quotes about addiction and addiction recovery.
---
That's it for now. If you know of anyone who can benefit from this newsletter or the HealthyPlace.com site, I hope you'll pass this onto them. Please share the newsletter on any social network you belong to. For updates throughout the week, follow us on Twitter, like us on Facebook, subscribe to our YouTube channel, or follow us on Instagram.
Thank you,
Deborah
Community Partner Team
HealthyPlace.com - America's Mental Health Channel
"When you're at HealthyPlace.com, you're never alone."
http://www.healthyplace.com
APA Reference
Peterson, T. (2022, April 12). Finding it Hard to Manage Things? It Could be Adult ADHD, HealthyPlace. Retrieved on 2023, December 11 from https://www.healthyplace.com/other-info/mental-health-newsletter/finding-it-hard-to-manage-things-it-could-be-adult-adhd
Last Updated: April 12, 2022