How to Talk About Mental Illness: What do I Say?
HealthyPlace Mental Health Newsletter
Here's what's happening on the HealthyPlace site this week:
Introducing Our New Youtube Vlogger, Hannah Blum
Like many of us, Hannah has been on quite a journey. Hannah has bipolar 2, a good attitude and, sometimes, a wicked sense of humor. She's also learned a lot since being diagnosed at age 19. Now, at 27, she feels comfortable in her own skin and wants to help others by discussing mental illness openly.
Watch her promo below and subscribe to our Youtube channel. Hannah's videos come out every Monday morning. And, to celebrate Hannah's first video next Monday, we're doing a giveaway of some very cool things. To enter, all you have to do is subscribe to our channel.
How to Talk About Mental Illness: What do I Say?
Knowing what to say about having a mental illness can cause tremendous anxiety, even if you don't have an anxiety disorder. While, of course, it's okay to keep things to yourself, the time may come when you'd like to tell someone about what it's like to live with a mental illness.
Once you've decided to talk (Telling Your Family You Have a Mental Illness — You're Not OK), it can be difficult to know what to say and when to say it. The world is still learning how to talk about mental illness as well as how to listen. Consider these tips when deciding what to say to people about living with mental illness:
Know your purpose. Knowing what you are hoping for in talking can help you shape your words.
Know your audience. Understanding how someone will react can also help you decide how to say what you need to say.
Determine exactly how your illness affects you. This will help you explain it to another person.
Be ready to listen. Having a give-and-take conversation will contribute to acceptance.

When you decide to tell others about living with a mental illness, being intentional about what you want to say and how you want to say it will facilitate communication and understanding.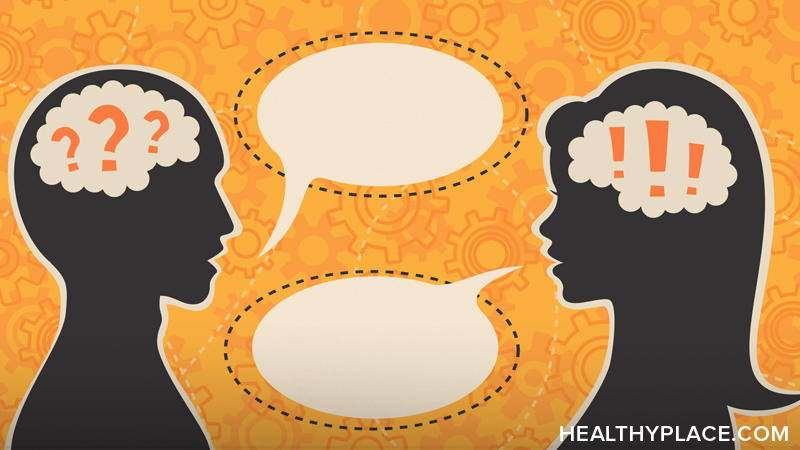 Related Articles Dealing with Talking about Mental Illness
Your Thoughts
Today's Question: When talking to others about your mental illness, what strategies have you discovered to be effective? We invite you to participate by sharing your thoughts, knowledge, and experiences on the HealthyPlace Facebook page and on the HealthyPlace Google+ page.
---
---
Share our Stories
At the top and bottom of all our stories, you'll find social share buttons for Facebook, Google+, Twitter, Pinterest and other social sites. If you find a particular story, video, psychological test or other HealthyPlace feature helpful, there's a good chance others in need will too. Please share.
We also get many inquiries about our linking policy. If you have a website or blog, you can link to any page on the HealthyPlace website without asking us beforehand.
Most Popular HealthyPlace Articles Shared by Facebook Fans
Here are the top 3 mental health articles HealthyPlace Facebook fans are recommending you read:
If you're not already, I hope you'll join us/like us on Facebook too. There are a lot of wonderful, supportive people there.
------------------------------------------------------------------
From the HealthyPlace Mental Health Blogs
On all our blogs, your comments and observations are welcomed.
On all our blogs, your comments and observations are welcomed.
Feel free to share your thoughts and comments at the bottom of any blog post. And visit the mental health blogs homepage for the latest posts.
------------------------------------------------------------------
Stand Up for Mental Health
Thousands Have Joined the Stand Up for Mental Health Campaign
But we still need you. Let others know there's no shame in having depression, anxiety, bipolar disorder, trichotillomania, OCD, ADHD, schizophrenia or any other mental illness.
Join the Stand Up for Mental Health campaign. Put a button on your website or blog (buttons for family members, parents, mental health professionals and organizations too). We also have covers for Facebook, Twitter and Google+.
------------------------------------------------------------------
Latest Mental Health News
People With Bipolar Disorder More Than Twice As Likely To Have Suffered Childhood Adversity
Hormone Therapy For Prostate Cancer May Raise Dementia Risk
SSRI Use In Pregnancy Linked To Speech, Language Disorders In Offspring
Running Triggers Brain Repair And Extends Life In Mouse Model
Drugs Used To Treat Inflammation May Also Be An Effective Treatment For Depression
Foster Care Raises Children's Risk Of Mental, Physical Health Problems
Mom's Pre-Pregnancy BMI May Affect Newborn's Lifespan
Study: Sleep-Deprived Preschoolers Eat More
These stories and more are featured on our mental health news page:
That's it for now. If you know of anyone who can benefit from this newsletter or the HealthyPlace.com site, I hope you'll pass this onto them. You can also share the newsletter on any social network (like facebook, stumbleupon, or digg) you belong to by clicking the links below. For updates throughout the week:
back to: HealthyPlace.com Mental-Health Newsletter Index
APA Reference
Peterson, T. (2016, November 1). How to Talk About Mental Illness: What do I Say?, HealthyPlace. Retrieved on 2023, December 8 from https://www.healthyplace.com/other-info/mental-health-newsletter/how-to-talk-about-mental-illness-what-do-i-say
Last Updated: May 8, 2017