Mental Health Bloggers Wanted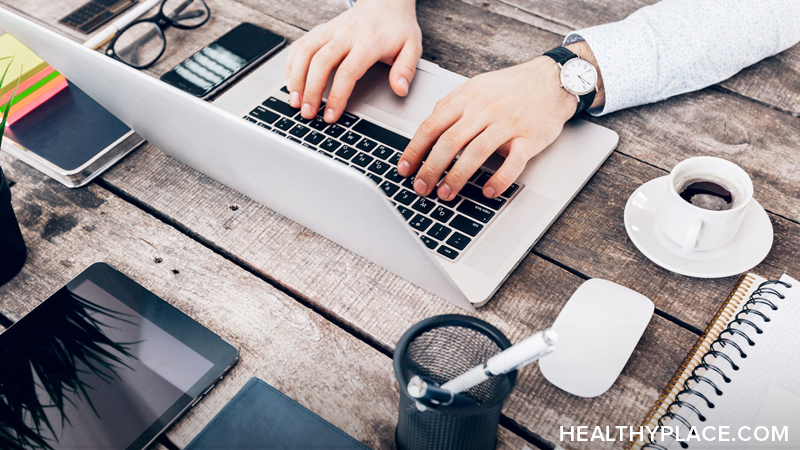 We are always looking for great mental health bloggers with lived experience.
I'm Natasha Tracy, the Blog Manager at HealthyPlace.
If you're a writer and want to reach a large audience of people interested in mental health, we hope you'll consider blogging for us. We are looking for diverse mental health bloggers (paid, contract positions) in the following areas:
Addiction
Anxiety
Coping with depression
Bipolar from a young adult's perspective
Dissociative identity disorder
Building self-esteem
Parenting a child who has a mental illness
Mental health from a young adult's perspective
Borderline personality disorder
Lesbian, gay, bisexual, transgender, questioning, and mental health issues
Binge eating disorder
Posttraumatic stress disorder (PTSD)
Verbal abuse in relationships
Relationships and mental illness
Living a blissful life
Recovering from mental illness
Eating disorders
Mental illness in the family
Self-injury
Mental health stigma
Work and bipolar or depression
Note: You must choose one or more of the above subject areas and you must have lived experience with that topic.
Here are the requirements for our bloggers:
We are looking for people with lived experience and a depth of knowledge in their topic.
Your real name and picture will be placed on the blog. You may not post as "anonymous."
You must be 21 or over.
You must be a technically proficient writer who can write compelling, original content. To give you an example of what we consider to be good writing, please see here and here. You must write using American English standards.
You need to be able to speak out on topics relating to your subject and be willing to share pertinent, personal experiences.
You must be adept at doing compelling videos (no video editing necessary). All bloggers are required to do at least one video blog post a month.
You must be able to promote your blog via your website, Facebook, Twitter, and so on.
You must be able to respond appropriately to reader comments.
You must be willing to make a one-year commitment to blogging with us.
You need to be reliable and self-motivated.
Being able to use a blogging platform and knowledge of search engine optimization is a plus.
If you are interested and have what it takes, please send us an email (info (AT) healthyplace (DOT) com, subject header: blogger position) with the following:
Your name
Your e-mail address
The chosen blog topic
Your experience with the chosen topic(s)
A summary of who you are, your writing experience, any blogging or website experience, your motivation for doing this, and what you might have to offer to our readers
A link to your current blog or site (if you have one)
A 350-400-word sample blog post on your desired topic as a Word document attachment; this must be included to be considered
A creative (not you just sitting in front of your computer; no editing needed) 30-second video of you talking about something related to your written sample topic (on your phone is fine); this must be included to be considered
Links to your social media accounts
Please understand it can take up to a month to process your application due to the number of applications we receive. In addition, if your application is approved and you accept a position with us, we ask that you commit to the blog for at least one year. We appreciate your time and interest and look forward to hearing from you.
Thank you,
Natasha Tracy
HealthyPlace Blog Manager
APA Reference
Gluck, S. (2020, June 27). Mental Health Bloggers Wanted, HealthyPlace. Retrieved on 2023, November 30 from https://www.healthyplace.com/about-healthyplace/about-us/blogging-for-healthyplace
Last Updated: November 14, 2022