Don't Fear Visiting a Loved One With Schizophrenia
HealthyPlace Mental Health Newsletter
Here's what's happening on the HealthyPlace site this week:
Don't Fear Visiting a Loved One With Schizophrenia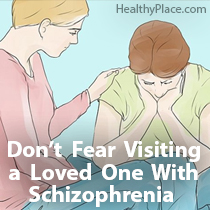 It can be very frightening when you hear that a family member or friend has been diagnosed with Schizophrenia. Usually the diagnosis comes with many preconceived judgments and you may stray away from visiting that person if they are in a mental health treatment facility. You even may have been there to witness a psychotic episode and you fear you may see another one.
It is completely natural to feel anxiety when visiting someone with such an intense mental illness – especially if they are in a psychiatric hospital setting. However, it is important to replace that fear with strength and prepare yourself for the situation.
How do you do that? Perhaps you, too, struggle with a mental illness and feel as though you have some insight into how they're feeling. Use your own experience or knowledge to help them gain the strength they need to understand their own illness and move forward in a positive way. It is also important to know where they stand in their treatment and decide whether or not it is an okay time to discuss their situation. Not everyone is ready to talk about their mental health status and just being there to support them (How to Provide Schizophrenia Help to Your Loved One) may be what they need to push forward towards a healthy future.
Related Articles Dealing with Visiting Someone with Schizophrenia
Your Thoughts
Today's Question: What are some ways you could prepare yourself before visiting a loved one with schizophrenia, bipolar disorder, depression, addiction or any other mental illness, in a mental health treatment facility? We invite you to participate by commenting and sharing your feelings, experiences and knowledge on the HealthyPlace Facebook page and on the HealthyPlace Google+ page.
------------------------------------------------------------------
Share our Stories
At the top and bottom of all our stories, you'll find social share buttons for Facebook, Google+, Twitter, Pinterest and other social sites. If you find a particular story, video, psychological test or other HealthyPlace feature helpful, there's a good chance others in need will too. Please share.
We also get many inquiries about our linking policy. If you have a website or blog, you can link to any page on the HealthyPlace website without asking us beforehand.
---
---
Most Popular HealthyPlace Articles Shared by Facebook Fans
Here are the top 3 mental health articles HealthyPlace Facebook fans are recommending you read:
If you're not already, I hope you'll join us/like us on Facebook too. There are a lot of wonderful, supportive people there.
------------------------------------------------------------------
Mental Health Experiences
Share your thoughts/experiences with any mental health subject, or respond to other people's audio posts, by calling our toll-free number (1-888-883-8045).
You can listen to what other people are saying by clicking on the gray title bars inside the widgets located on the "Sharing Your Mental Health Experiences" homepage, the HealthyPlace homepage, and the HealthyPlace Support Network homepage.
If you have any questions, write us at: info AT healthyplace.com
------------------------------------------------------------------
From the HealthyPlace Mental Health Blogs
On all our blogs, your comments and observations are welcomed.
Feel free to share your thoughts and comments at the bottom of any blog post. And visit the mental health blogs homepage for the latest posts.
------------------------------------------------------------------
Stand Up for Mental Health
Thousands Have Joined the Stand Up for Mental Health Campaign
But we still need you. Let others know there's no shame in having depression, anxiety, bipolar disorder, trichotillomania, OCD, ADHD, schizophrenia or any other mental illness.
Join the Stand Up for Mental Health campaign. Put a button on your website or blog (buttons for family members, parents, mental health professionals and organizations too). We also have covers for Facebook, Twitter and Google+.
------------------------------------------------------------------
Latest Mental Health News
These stories and more are featured on our mental health news page:
When Is Internet Use Truly Problematic?
The Power of Touch
Internet Search Engines As Both An Aid And A Danger For People At Risk Of Suicide
Exercising Helps Depressed Smokers Quit
'Suicide Is Not A Selfish Act' Say Survivors Who Have Attempted To Take Their Own Life
A New Cause Of Mental Disease? Astrocytes Might Be Behind Mental Disorders
Children With Relatives Who Participated In Manhunt After Boston Marathon Attack Suffer Mental Health Issues
Our Desire For Payback Exemplifies Our Capacity For Abstract Thought
A Computer Is Much Better Than People Are At Telling The Difference Between Real And Faked Pain
Friends Can Be Dangerous. Even Teenage Mice Binge-Drink With Peers
That's it for now. If you know of anyone who can benefit from this newsletter or the HealthyPlace.com site, I hope you'll pass this onto them. You can also share the newsletter on any social network (like facebook, stumbleupon, or digg) you belong to by clicking the links below. For updates throughout the week:
APA Reference
Staff, H. (2014, September 9). Don't Fear Visiting a Loved One With Schizophrenia, HealthyPlace. Retrieved on 2023, December 11 from https://www.healthyplace.com/other-info/mental-health-newsletter/don-t-fear-visiting-a-loved-one-with-schizophrenia
Last Updated: September 9, 2014