Victim of Forced Electroshock The Kathleen Garrett Story
Timeline of Events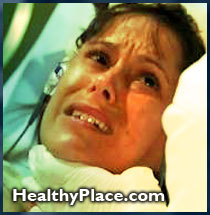 Kathleen Garrett's doctor Ricky Mofsen, DO, says he wants her to have ECT. She says no. He takes her to court.
The judge rules Mofsen may shock her against her will.
Treatments begin, but Kathleen is transferred from Southpointe to Des Peres Hospital (both owned by Tenet) because the shock machine breaks.
Kathleen Garrett repeatedly states she wants no more shock treatments. Complains of paralysis in her legs, but says nurses ignored her.
Son Steve Vance makes contact with activists who begin a public campaign to stop the forced shock!
Des Peres hospital is "deluged" with email, phone calls and faxes demanding that this forced treatment stop immediately.
Hospital appears to concede and calls Steve the next morning to say she'll be released the following day.
Surprise early morning shock outrages the world, after hospital had said it would release her.
Kathleen states numerous times that hospital staff tried to coerce her into signing a statement saying she wanted more shock.
Steve becomes convinced that the early morning shock was extreme because his mother is so much more confused than after the previous shocks.
Staff from Des Peres begin to call Kathleen, forcing Steve to change her number. (The concern is that they will again try to coerce her into saying she wanted more shock)
Kathleen is now being harassed over a $3,200 medical bill, with threats of ruining her credit and taking her to court. Her son says this is adding to her stress and has asked that they leave her alone. He says he has been met with nothing but rudeness and hatred, and that the minute he calls, they "know who I am."
He is becoming so concerned with her safety after learning of Tenet's history that he is now seriously considering moving his mother to nearby Illinois. "I can't believe how they've behaved," says Steve. "These aren't people who care. They only care about my mother's money!"
next: What does CMHS Director Dr. Bernard Arons Say about Consumer/Survivors?
~ all Shocked! ECT articles
~ depression library articles
~ all articles on depression
APA Reference
Staff, H. (2007, February 17). Victim of Forced Electroshock The Kathleen Garrett Story, HealthyPlace. Retrieved on 2023, December 11 from https://www.healthyplace.com/depression/articles/victim-of-forced-electroshock-the-kathleen-garrett-story
Last Updated: June 21, 2016