I Just Call This 'To Hell and Back'
Treatment with anti-depressants has literally given my life back to me. Here's my story of living with major depression.
In response to you request for personal experiences with depression, this is my story and a testimonial to being treated with anti-depressants.
My Story of Living with Major Depression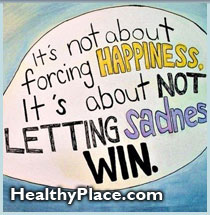 To restate for anyone who will read this, I was hospitalized in mid-October of 2002 for my first ever bout with Major Depression. I had major crises in my life including a business partnership that had gone sideways, serious financial problems brought on by the business difficulties, problems in my marriage and the other stresses of living in the fast pace of U.S. society.
My depression symptoms took about 3 months to mature. Just prior to being hospitalized, they were:
the inability to exercise
severe sleep disruption (in a one week period of time, I slept about 3 hours)
fluctuations in body temperature that were characterized by the inability to keep warm
fear of driving
disorientation
poor concentration
impaired night vision
agoraphobia
suicidal ideations
Getting Help for Depression
While I tried to cope with these depression symptoms using outpatient treatment and intestinal fortitude, they finally became too much. That's when my brother and wife intervened and made the decision to seek inpatient treatment at the UCI Neuropsychiatry Center.
With the help of the team there, I started what seemed to me to be the impossible task of recovery. I was immediately started on a very aggressive regimen of psychiatric medication under the direction of my psychiatrist which included an atypical anti-depressant along with a sleep medication to help me sleep.
I slowly made progress, but even at my release, I was ambulatory at best. I couldn't work and I continued to experience all the other symptoms that existed for the weeks prior to being hospitalized. Imagine if you are carrying a 200 lb backpack and then having your saddest life experience dominating your every thought.
It took every ounce of my mental and physical faculties just to function at an ambulatory level. Every movement, every decision was difficult and draining. It took most of my energy just to contain the thoughts. It was a nightmare for me and my family (my wife and 2 daughters that were 14 and 11 at the time). They tried very hard to help me recover, but I was truly in the grips of Major Depression. No amount of tender loving care or therapy was going to change how I felt; even with the medications I was taking immediately after leaving the hospital.
The Right Depression Treatment Changed My Life
That's the way things remained for the two months that preceded the Christmas holidays of 2002; that is until out of desperation my sister interceded and the two of us were able to convey my feelings to my doctor. With the addition of a second antidepressant to my depression treatment in place of the sleep medication, positive effects were almost immediate. It was like the transformation for Dorothy in the Wizard of OZ. I went from the black, white and gray of the tornado in Kansas to a beautiful, calmer and colorful world; for Dorothy it was the Land of OZ; for me it was the world that I knew before my prolonged bout with Major Depressive Disorder.
Effective Depression Treatment Means Making Real Changes
While my recovery started slowly and took more than three months, I could feel a significant difference from the very first dosage of my antidepressant medication. I had my first restful nights sleep in more than two months that night; and for the first time in perhaps four months, I had dreams in place of foreboding and nightmares.
After about four weeks, I was able to begin exercising both my mind and my body. Physical exercise consisted of weight training and running six days a week. My mental exercise included much research on the subject of depression, taking on challenging tasks in the way I had before my depression, and putting my life back together.
My daughters and other family members were a huge help to me. My two sisters were particularly instrumental during the entire duration of my illness, one with unconditional love and support, and the other with the information and the spirit I needed to try any and every conventional and alternative treatment.  However, my recovery could not have happened without the positive effects of being treated with antidepressants. I was so taken by how much better I felt the day after my first dose that I went on the Internet to research the company. I wanted to thank someone and even be a spokesperson.
It is now three years later. I have some minor depression relapses, but with early recognition and response the longest duration has been about 7 days. I have established a new career and a steady relationship and I feel blessed. Life is not perfect; I have my ups and downs, but I can rise to the occasion and deal with what life has to offer good or bad.
A Family History of Depression
My father suffered from depression, his father and mother suffer from it, and my grandmother's family suffered from it.  Most weren't able to function very well past 50. They suffered and didn't enjoy much of life. I want very much to get my story out to the world and particularly to those unfortunate souls that suffer without proper treatment for the same disease that I did and do, to give them the sincere hope that this disease, depression, can be conquered with the help of the right medication and the right support. Treatment with anti-depressants has literally given my life back to me, and for that I will always be eternally grateful.
Sincerely,
Barry
Ed. note: This is a personal depression story and reflects this one individual's experience with depression and depression treatment. As always, we urge you to check with your doctor before making any changes in your treatment.
next: My Story of Mid-Life Depression Trigger
~ depression library articles
~ all articles on depression
APA Reference
Staff, H. (2009, April 20). I Just Call This 'To Hell and Back', HealthyPlace. Retrieved on 2023, December 1 from https://www.healthyplace.com/depression/articles/i-just-call-this-to-hell-and-back
Last Updated: July 14, 2017