Woman Says Electric Shock Treatment Destroyed Her Life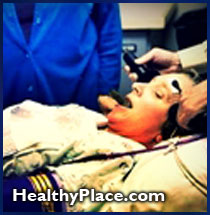 Melissa Holliday sang at a Chrysler convention, landed a job as an extra on the Baywatch television series, appeared as a Playboy foldout model in January 1995 and, at times, was making $5,000 a day.
Now she lives at her father's apartment in Seabrook, gets $525 a month from Social Security, has not worked in a year and, instead of singing This is My Country for Lee Iacocca, is poised to become an entirely different sort of performer.
Her new topic is electroshock therapy. Her message is, it has ruined her life.
"I was making $2,500 to $5,000 a day," she recalled Wednesday. "I had opportunities other people only dream about. I would've become a star and made a lot of money. I'd have a life.
"Now, everyday is like the Olympics for me. I don't want another person to go through what I've been through. Electroshock is not a form of therapy. Doctors are getting rich off doing brain damage to people."
Holliday on Wednesday filed a civil lawsuit accusing a Santa Monica, Calif., hospital and three physicians of assault and battery and personal injury over what she said was done to her from June 26-July 12, 1995.
Holliday, 26, said she had worked hard at singing, dancing and acting for years, and finally was achieving success. She was modeling and doing voice-overs for TV commercials. She had meetings with people from Warner Bros. and Columbia Pictures.
But through it all, she said, she was in constant pain from a uterine problem. It left her depressed, and at 24, she was told, her only medical solution was a full, unwanted hysterectomy.
Her depression worsened. Finally, she was referred to a female doctor in Santa Monica.
Before long, Holliday said, she was checked into St. John's Hospital and Health Center in Santa Monica and placed on a lengthy regimen of drugs. Her father, Randy Halberson, said his daughter was given uppers, downers and every shade in between.
Although she wasn't informed of it at the onset, Holliday said, she soon learned she was due for electroshock therapy.
"They'd given me so many drugs, I didn't know if I was coming or going," she said, "A week after I got there, the doctor mentioned shock. She didn't ask me if I wanted it. She said if I didn't want it, I'd go to the fourth floor, a lock-up ward. Then nobody could see me and I couldn't go outside."
Nine times she was shocked, Holliday said.
"I've been through a rape, and electroshock therapy is worse," she said. "If you haven't gone through it, I can't explain it."
When it ended, she said, her show-business career was over. "I couldn't leave my house for six months," she said. "I couldn't drive my car for eight months."
Holliday's relatives tell of nine suicide attempts, a total loss of self-confidence, continual anxiety and depression worse than when she went to the Santa Monica hospital.
Holliday's situation has caught the attention of Jerry Boswell of Austin, director of the Citizens Commission on Human Rights of Texas, a group that champions the rights of medical patients. Boswell is leading the charge to abolish electroshock therapy in Texas.
About 1,800 people underwent electroshock therapy in Texas last year, Boswell said, and 70 percent were women.
"Now," he said, "the main target is elderly people. There is a 36 percent increase in shock treatment between age 64 and age 65. When you turn 65, you become eligible for Medicare, and Medicare pays for electroshock. For a few seconds of electricity, the hospital gets $300."
State Rep. Senfronia Thompson, D-Houston, tried last year to push legislation aimed at banning electroshock therapy. Now she is preparing for another try.
"My bill died in committee, but the chairman was kind enough to give me a hearing," Thompson said. "It lasted until the wee hours and we heard from 150 people."
Half the witnesses raved about the good things electroshock treatment had done for them, Thompson said, and the other half related horror stories, how it caused memory loss and even seizures that continued long afterward.
A Houston psychiatrist, Charles S. DeJohn, said electroshock therapy nowadays is unlike that in decades past when it was a more common medical tool for treating depressed people who could not otherwise be helped.
Now it is done with more careful monitoring of "seizure duration and oxygenization levels," DeJohn said. Anesthesiologists typically are present during sessions. Care is taken to prevent patients from breaking their own bones during electrically induced seizures.
"There is no significant deficit,"DeJohn said. "It's reserved for people who haven't responded to treatment and whose condition is such that you can't wait for a response (from drug therapy). It is perceived as a legitimate form of treatment."
DeJohn said he has referred educated patients -- attorneys, professors and others -- for shock treatments and "all responded well."
next: Fighting 'The Blues' In African-Americans
~ all Shocked! ECT articles
~ depression library articles
~ all articles on depression
APA Reference
Staff, H. (1996, June 26). Woman Says Electric Shock Treatment Destroyed Her Life, HealthyPlace. Retrieved on 2023, November 28 from https://www.healthyplace.com/depression/articles/woman-says-electric-shock-treatment-destroyed-her-life
Last Updated: June 23, 2016