Grief Recovery
Discover the importance of grief recovery, grief work and dealing with unresolved grief caused by a death, divorce or any significant emotional loss.
Does time really heal all wounds?
It is important for a person to grieve and complete their relationship to the pain and unfinished business caused by a death, divorce or any other significant emotional loss.
When is it time to do my "grief work?"
This is the most difficult question facing grievers. Part of the problem stems from the biggest single inaccurate idea that we were all socialized to believe: that "time heals all wounds." Time does not heal. Actions can help discover and complete unfinished emotional business.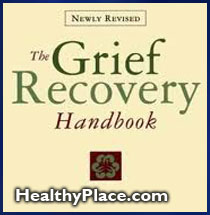 When can I begin to discover and complete all of the things that I wish had ended "different, better or more," and all of the broken "hopes, dreams, and expectations" about the future? The answer is immediately, according to John W. James, author of The Grief Recovery Handbook. "Waiting to do grief work is potentially dangerous," he says.
Most likely you've heard that grievers tend to create larger than life memory pictures in which they either "enshrine or bedevil" the person who died. According to James, this phenomenon increases with time, making it more difficult to discover the "truth" within the relationship.
What are some tipoffs that unresolved grief is the cause of my discomfort?
Unresolved grief tends to take people "out of the moment," that is to cause you to be off in conversations with people who are no longer physically there with you. [This is not limited to death. You are equally likely to be lost in a conversation with a former spouse, still living, who is not physically present]. Assuming that your physical health is okay, unresolved grief tends to drain you of energy. Unresolved grief tends to close our hearts down. Since we're incomplete with a prior loss, we almost automatically "protect" ourselves by not loving again. More accurately, we limit our loving exposure and thereby doom the new relationship to fail.
Commonly, grievers will hide their true feelings for fear of being judged. Where isolation is the problem, participation is a major component of the solution. Support groups, counseling, and workshops are all aimed at discovering and completing the unfinished emotional business that fuels the isolation.
next: My Experience With Depression
~ depression library articles
~ all articles on depression
APA Reference
Gluck, S. (2008, December 3). Grief Recovery, HealthyPlace. Retrieved on 2023, September 28 from https://www.healthyplace.com/depression/articles/grief-recovery
Last Updated: June 24, 2016