Electroshock Turns Hillside to Hellside
A WATCHDOG group says mental patients at Hillside Hospital in Queens are being abused - mentally.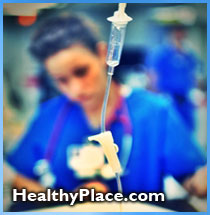 Since January, about a dozen patients have been coerced into receiving electroshock treatment under the threat of being shipped off to inferior state-run facilities.
"It's not physical abuse - it's mental abuse," said Dennis Feld, the deputy chief for the Mental Hygiene Legal Service, a state-funded watchdog group that represents all mental patients.
"What they are doing is frightening them."
Patients' treatment teams - which are made up of psychiatrists, psychologists, therapists, social workers and even nurses - are ganging up on our sick and vulnerable, Feld charges.
"They go a little further than just saying, 'You don't want to take this [electroshock therapy]? It's OK,' and moving on," said Feld, who is considering filing a class-action lawsuit. "They're really pushing it."
Feld claims that at least five patients have already been transferred for refusing to receive electroshock treatment.
A Hillside spokesperson didn't respond to repeated telephone messages.
The watchdog group began eyeing alleged electroshock abuse at Hillside when the hospital tried to strong-arm spunky 65-year-old Wilfredo Hernandez, of Brooklyn.
Hillside, with Hernandez's consent, zapped his 38-year-old mentally retarded daughter, Nina, 21 times. When Hernandez refused to allow the doctors to continue, they allegedly threatened to legally take custody of his daughter and get a court order to zap her again.
But one day - that's one day - after The Post reported Hernandez's plight, Hillside doctors decided Nina didn't need electroshock treatment anymore. In fact, they said she didn't need the hospital's services at all anymore. She was discharged Friday.
Hernandez, a deacon at a Borough Park Catholic church, is thinking about forming a parents group to combat forced electroshock at Hillside.
"I'm worried about the patients who don't have family members to defend them," Hernandez said.
Vera Hassner-Sharav, the president of the city's Citizens for Responsible Care and Research, called the alleged coercion practice at Hillside "unconscionable."
She said the only recognized use of electroshock is for patients with severe clinical depression who haven't responded to any other form of treatment.
Zapping Nina Hernandez, who doesn't suffer from depression, is "contrary to accepted medical standards put forth by the American Psychiatric Association" and, therefore, "that makes it experimental," Hassner-Sharav said.
Feld charges the pressure to zap patients at Hillside began 1997, when Dr. Max Fink, the godfather of electroshock, moved his research and teaching activities to Long Island Jewish Medical Center, which is affiliated with Hillside.
Published studies show Hillside has participated in several federally funded electroshock experiments.
Fink said he had retired from the electroshock business to write books, and at first distanced himself from Hillside. He's listed as a "research faculty" member on the hospital Web site.
When pressed, a flustered Fink said, "If he [Feld] alleges we are doing something wrong, he should go to court and sue the pants off the place."
Maybe Feld should. A lawsuit might teach these doctors not to play with electricity and the lives of patients who trust them.
next: Fish Oil Found To Ease Manic Depression - US Study
~ all Shocked! ECT articles
~ depression library articles
~ all articles on depression
APA Reference
Staff, H. (2001, June 25). Electroshock Turns Hillside to Hellside, HealthyPlace. Retrieved on 2023, September 29 from https://www.healthyplace.com/depression/articles/electroshock-turns-hillside-to-hellside
Last Updated: June 20, 2016