Fort Collins Psychiatrist Loses License
By SONJA BISBEE WULFF
The Coloradoan
Dec. 1, 1999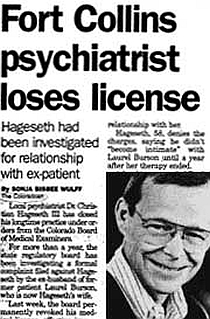 Dr. Christian Hageseth III has closed his longtime practice under order from the Colorado Board of Medical Examiners.
For more than a year, the state regulatory board has been investigating a formal complaint filed by the ex-husband of former patient Laurel Burson, who is now Hageseth's wife.
Last week, the board permanently revoked his medical license, effective immediately.
"They've taken away my ability to care for people," said Hageseth, who's practiced in Fort Collins for 21 years. "It's immensely painful."
Paul Burson, who won a civil suit against Hageseth in Larimer District Court, claims the psychiatrist counseled his wife to leave him and then developed a sexual relationship with her.
Hageseth, 58, denies the charges, saying he didn't "become intimate" with Burson until a year after her therapy ended.
A local jury awarded Paul Burson $217,373 in damages in April 1998. Last fall, the American Psychiatric Association expelled Hageseth from its roster for "unethical conduct."
Hageseth married Laurel Burson on Oct. 30, 1998, and continued his local practice - until last week when he lost his license. Hageseth said he feels "bad that people got hurt," but he called the board's decision "irregular and highly unfair."
"I have had four experts evaluate me," he said. "All four say I'm safe to practice, and there's no danger."
Hageseth said he's seen other psychiatrists get romantically involved with patients yet receive only a slap on the wrist from the medical board.
Hageseth, who's already spent $50,000 in legal fees plans to plead his case to Gov. Bill Owens.
"All I did was love this sweet woman," he said.
Loss another crisis for those who need help
By SONJA BISBEE WULFF
The Coloradoan
The Fort Collins mental health community is reeling from the abrupt loss of psychiatrist Dr. Christian Hageseth.
In a community already short on psychiatrists, Hageseth has maintained a full practice, including a large number of indigent patients, for the past 21 years. Recently he has handled almost a third of patients hospitalized at Mountain Crest.
But now when these patients call his office, they get a recording directing them to the Yellow Pages.
The Colorado Board of Medical Examiners, has revoked Hageseth's license, his patients are learning this week through the mail.
"We felt it immediately," said Dr. John Nagel, medical director at Mountain Crest, who has been deluged with calls from panicked Hageseth patients, some in urgent need of medication.
Nagel criticized the state medical board for not giving Hageseth the two or three months needed to transition psychiatric patients smoothly to new physicians.
"It puts a lot of people and a lot of lives at risk," he said.
The most vulnerable patients are those among the low-income population, said Joan Cmar, a therapist with Poudre Health Services District's Mental Health Connections.
With the shortage of local psychiatrists, people with health insurance have trouble accessing care, said Cmar, who's also received numerous calls from Hageseth's patients. For people who can't pay, it's next to impossible, she said.
"(Hageseth) connected to the indigent population more readily than any other psychiatrist in town, Cmar said. "It's going to be a huge loss for the community."
The other major concern is for psychiatric patients who require hospitalization.
Only four psychiatrists - including Dr. Cliff Zeller, who was recruited this fall - remain on staff at Mountain Crest.
"We have been in something of a scramble to cover all the bases," Nagel said.
The result will be more instability, Cmar said.
Untreated mental illness can lead to family difficulties, unemployment, violence, suicide and a host of other problems, she said.
Mountain Crest is actively recruiting psychiatrists, with a couple of possibilities in the works. However, since the candidates are not from Colorado, they would have to go through a lengthy licensing process.
"It's probably months off," Nagel said.
next: Good Fats For Mental Health
~ all Shocked! ECT articles
~ depression library articles
~ all articles on depression
APA Reference
Staff, H. (2007, February 18). Fort Collins Psychiatrist Loses License, HealthyPlace. Retrieved on 2023, November 30 from https://www.healthyplace.com/depression/articles/fort-collins-psychiatrist-loses-license
Last Updated: June 22, 2016