Mental Illness on the Job
If someone at a job interview explains a two year gap in their resume by mentioning chemotherapy, they will likely be heralded as a survivor and their chances at the job typically would not be affected. But if the same person, with the exact same qualifications and manner of interacting explains a gap and mentions a psychiatric hospitalization, things may be a little different.
Every day, we make strides toward reducing the stigma of mental illness. But some areas may be a bit more difficult than others.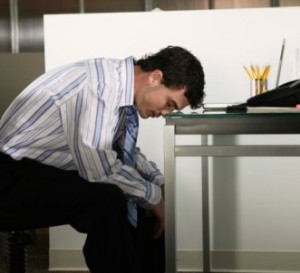 The Disconnect Between Physical and Mental Health
I spoke at a mental health awareness event this past weekend and this was a common theme of the discussion. Physical illness and mental illness are quite simply viewed as entirely separate entities when it comes to the work force.
If you don't think this is true, ask yourself which you would feel more comfortable calling in sick for: a bout of the flu, or a bout of depression?
As another speaker, Hilary Packard, pointed out, it is because there is a general societal view that once you were declared mentally ill, that you will always, to some degree, still be mentally ill. And that is the root cause of this stigma that undoubtedly causes thousands of cases of discrimination on a daily basis.
The Myth That Binds the Stigma
When someone's cancer is in remission, they are not still viewed as someone battling cancer. But when someone's symptoms of schizophrenia, bipolar disorder or depression are in remission, they may still be viewed as unstable, weak or prone to erratic behaviour.
This myth, that people don't fully recover from mental illness, stands at the forefront of employment discrimination. In order to combat this, we need more examples of everyday people standing up and showing the world that they have battled, and won, against mental illness.
We need people who are quietly working away in their office hoping no one will ever find out that they were once 'mentally ill' to stand up and be proud of the fact that they conquered mental illness.
Calling All Warriors
The more that employers start seeing mental illness as a treatable condition, the less power this stigma will have. And the best way to do that is to take that initial step and mention mental illness in the office. The eradication of stigma will only come from brave warriors who are willing to step out of their comfort zone and publicly acknowledge who they were, who they are now and who they are going to be.
The Completely in Blue website is here. Chris is also on Google+, Twitter and Facebook.
APA Reference
Curry, C. (2012, December 3). Mental Illness on the Job, HealthyPlace. Retrieved on 2023, December 5 from https://www.healthyplace.com/blogs/survivingmentalhealthstigma/2012/12/mental-illness-on-the-job-2
Author: Chris Curry
My brother recommended I may like this web site. He was totally right. This put up actually made my day. You cann't believe just how much time I had spent for this info! Thank you!
i am now 61 years old. never found meds that would eliminate symptoms of ptsd. i tried everything! now what?
Judith, I would have to suggest some form of talk therapy. Unfortunately, medication alone often does not get to the root of PTSD.
In my experience, explaining that I have a condition managed by medication, just like diabetes, lupus, psoriasis or others, has eased my way. I don't talk about my ptsd and depression often, but I do sometimes casually mention my "shrink" and I am open about my appointments with him, if anyone asks. I consider mental illness to be a disability like many others. Disabilities can't be undone, but they can be dealt with.
I think the big thing is not to put it out there as an excuse for anything you do like being late or losing the thread of the conversation in a meeting, but to own it when the topic arises. When it does, most people have known me for the quality of my work first, and when they learn of my ptsd they understand that people can function with mental disorders, very well in fact, if they see their doctor regularly, take prescribed medication, and exercise and/or do other therapies as suggested. Be proud of your abilities, not ashamed of your illness.
Michelle. I really like your line 'be proud of your abilities, not ashamed of your illness.' Nicely worded and thanks for commenting.
When someone has a drug addiction, they go to "rehab" and they are in "recovery." We think they can get better, even though many will relapse. When it comes to mental illness, we go to hospitals to be "stabilized." We need better metaphors.
I could not agree more Emily! Excellent point.
That is so true. I am actually battling with depression and at times i feel it is winning. But iI cant call in with depression and they be oh well ok thats not good get better. O dont wnat to be here most of the time and i just want to hide away, i have problems focusing and remembering. I feel it takes so much out of me to work then it normally would. plus i dont sleep well so it makes it worse, but to anyone else thats not a good excuse and i should just suck it up. I was even told once that if i didnt get better soon i may lose my job and that i should just fake it. How am i supposed to feel about that when just showing up is me faking it as much as i can.
Leave a reply