Coping With Anxiety When You Travel: Will I Be Okay?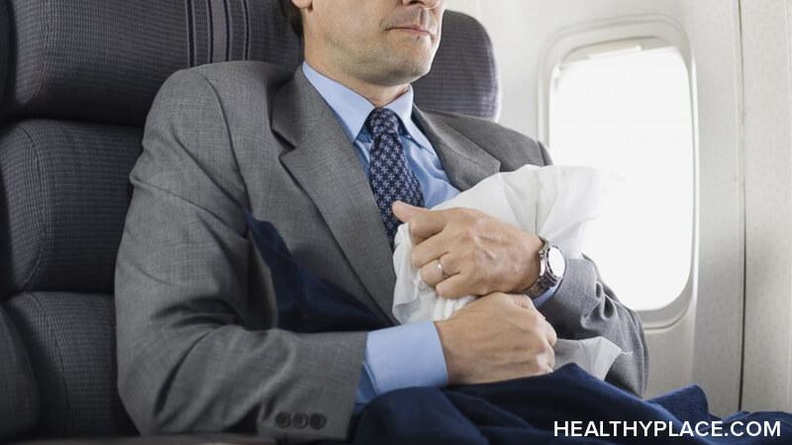 Do you have travel anxiety? Has anxiety affected your travel plans and/or preparations?
Traveling can bring up tons of worries: Will I be okay? What if something happens to people back home while I am away? What if I am alone and afraid? What if the plane crashes? What if it is overwhelming? What if I miss the plane, or hate my accommodations? What if I get lost? What if I am homesick, but stuck there? What if I can't get home? What if someone gets mad at me? What if I get anxious?
You name the worry, I have heard it and then some. All these worries just about make you want to stay home!
So how do you keep yourself even keel to relax while you are traveling for work or pleasure? Keep these tips in mind.
How To Travel with Anxiety:
1. Focus on pacifying vata. Travel, movement, and change aggravate vata (Read Six Ayurvedic Ways To Decrease Anxiety). Stay warm, hydrated, and eat well.
2. Do breathing exercises. Breathing can calm a stirred up mind. There are many kinds of breathing techniques. Find one you like. You can do these even in public without anyone around you knowing!
3. Spend some time outside. Nature is all over the world. Find a park and take a walk to calm uneasy feelings.
4. Get over your fear of flying.
5. Make a contigency plan. Make a plan for what to do if you run into trouble. Decide who you can call if you need to figure something out, or where to go if you have a question. Think about a few scenarios that might happen and make a list of what you might do about them. Then include them in affirmations to cure anxiety. This will help you build confidence in yourself.
6. Trust yourself. You are already handling things every day. You are smart and aware and you can problem solve. If a problem came up, you can take you time to figure it out. Many people have been in a pickle in this world, and they live to tell the tale. Besides, odds are big problems won't happen. If your Anxiety is telling you right now, "But they can," please know that is the oldest Anxiety tactic in the book. Anxiety wants you to think, "This time is different." It is just its way of staying in control of your emotions. It seems logical to prepare for the worst, but it is just suffering. All you have to do is trust yourself.
7. Know Anxiety is just an experience. It cannot hurt you physically. What hurts is the meaning you make around it. If you think of it as terror, it will feel like terror. Some people think of this uneasy feeling as part of the thrill of adventure. You can think of it this way, too. That's why all movies and stories have some conflict, some problem. They make life engaging.
8. Bring things along that will make you comfortable. This can be comfortable clothes, medicine, a photo, some crackers, or worry stone. Anything. The sky is the limit here. (Except when you are traveling, size matters.) When I was in the grips of my fear of flying, I used to wear a special prayer necklace that made me feel protected and connected.
9. Have fun. Anxiety and fun hardly can survive at the same time. One beats the other out eventually. Make sure that fun is the winner!
How do you prepare for a trip when Anxiety threatens to keep you home?
You can also connect with Jodi Lobozzo Aman:
I blog here: Heal Now and Forever Be In Peace,
share here: Twitter@JodiAman, Google+,
inspire here: Facebook: Heal Now and Forever Be in Peace.
APA Reference
Lobozzo, J. (2013, September 11). Coping With Anxiety When You Travel: Will I Be Okay?, HealthyPlace. Retrieved on 2023, September 25 from https://www.healthyplace.com/blogs/anxiety-schmanxiety/2013/09/coping-with-anxiety-when-you-travel
Author: Jodi Lobozzo Aman, LCSW-R
i have anxiety connected life long illness i really struggle travelling anywere away from my flat ive got to attend a different hospital unit soon in town and haven't travelled to the town in 4 years im really going get all worked up and can hardly control my breathing and over thinking whilst i type this im not due there till the 1st feb
Hi Jodi,
I was hoping for some advice, me and my best friend are hoping to plan our dream holiday at the end of the year. However in the past 2 years she has developed anxiety issues due to emotional stress both in her past and recently. Last year she was supposed to get on a long flight by herself and had to leave the plane because she had an anxiety attack. I have talked to her about it and she describes it as a feeling of claustrophobia not fear of flying as she has traveled by plane numerous times before.
While she is optimistic about us travelling together I am concerned due to the financial and emotional stress and commitments of planning a trip together. How can I best support her as a friend without sacrificing my own goals of travelling at the end of my studies? I am worried about committing myself to this trip and then having to face a dilemma at the departure gate.
Jodi, another excellent post that I'm sure will help many, myself included! Would you believe that I have been traveling since I was a very young child and it's not until this year that I've started to experience anxiety whenever I travel? I chalk it up to the fact that last year I almost drowned and I think that being in such an enclosed space, makes me feel like I'm going to run out of air. Traveling on my way to Spain this summer, I had a very difficult time. Not only was my knee in excruciating pain, but also, I was traveling alone with Roxy. I didn't have anyone to reassure me or breathe with me, or anything. I relied on prayer, visualization, and my prayer beads. I found breathing exercises to be especially soothing. Coming back, the Son was on the same flight but unfortunately, not able to sit with me. Again, the lack of company threw me for a spin and I had to visualize myself arriving at my destination, alive and well. It's a journey, I tell you, both physically and mentally. Thankfully, wonderful posts like this one help anxious travelers like myself to know that it's going to be okay. I'm grateful for your wise counsel, always, my friend! :)
I read a quote now that I liked
"He who fears he shall suffer, already suffers what he fears." ~ Michel de Montaigne
Hi Jodi,
I'd love to see more resources re: #4. It's easy to say get over it but not so easy to actually do. :) Thank you!
Leave a reply