Is Acting Like the Abuser a Side-Effect of the Abuse?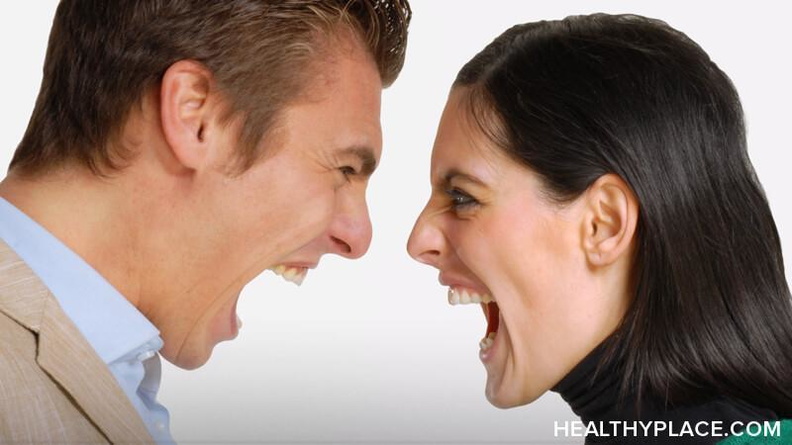 I watched The Burning Bed this week. Farrah Fawcett plays abused wife Francine Hughes who murdered her husband after suffering years of abuse. In court, Sarah Hughes was found innocent by reason of temporary insanity (Battered Woman Syndrome).
After watching the movie, I wanted to find out more about the case and ran across an interview in which a man from the Hughes' town said that Francine beat her husband, too. He saw her beating him right there on the sidewalk outside his door and the police were called to separate them.
My stomach felt sick. His viewpoint of the Hughes' fight reflected the views of many people looking into an abusive relationship - the victim dished it out as good as she got. They're both at fault (What Are Victims Responsible for in an Abusive Relationship?).
Victims Often Act Like Abusers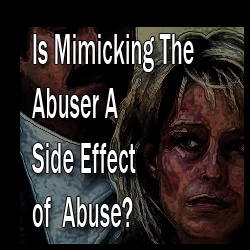 I've wrestled with this demon before; I've wondered if my reaction to his abuses meant that I was an abuser. He said, "You abused me too!" with either a smile of triumph or a pained little boy expression ... and I believed him.
I threw keys at him once, I called him bad names more than once, and I tried to use my anger to overcome his rampaging often. One time when he accused me of being a great actress to get my way, and I told him "You believed my performance last night!" to imply I faked orgasm. He ran into the bathroom and cried.
All of those reactions were abusive. I was abusive.
When I think about my abusive actions toward him, I cannot think of one time in which I initiated the abusive episode. Not one. I reacted like a cornered animal. I was outside of myself, watching myself act like an ass. Am I an abuser?
Can Acting Like The Abuser Stop the Abuse?
From the books about abuse that I've read, abusers feel triggered in some way before an attack (attacks are verbal, mental, emotional, physical). I thought that something about me triggered his attacks. It didn't even occur to me that something or someone besides me could have made him act that way toward me.
I spent the majority of my time trying to figure out what I did to make him angry so I would know what not to do in the future. I was a poor mind-reader; the attacks occurred repeatedly despite my efforts.
Likewise, his abuse of me triggered something inside of me to fight fire with fire. A piece of me came to believe that the only way to counteract his behavior was to behave the same way. I erroneously thought that he would hear me, understand my point of view, if I elevated my voice or stung him with my words. I believed that the only way to "make him stop" was to BE like HIM, so I became abusive in reaction to his behaviors.
Victims Fight Fire With Fire
When I think about the perception some people have of abusive relationships, that it's a two-way street, that the "victim" is no victim, that she gave as good as she got, I feel chilled to my core. The stigma is common--but wrong (Abusive Relationships and Why Victims Stay).
The victims of domestic violence never get the upper hand no matter what tactic they use. If you see a victim "fighting fire with fire," you've seen a snapshot into that relationship and nothing more. Most likely, you've also seen the snapshot the abuser wanted you to see. After all, abusers are often considered good people by the community, well-liked, respected. It's his or her crazy partner who is to blame.
Victims Who Act Like Abusers Are Culpable for Their Actions
But what about Francine Hughes and her ultimate reaction to her husband's abuse? Where do we victims of abuse draw the line, accept responsibility for our part of the cycle of abuse, and walk away? As wrong as it is, the beaten down victims of abuse must find the resolve to end the cycle of abuse by taking responsibility for our part of the insanity (How Do I Stop The Verbal Abuse?).
We can find the strength within ourselves to stand up and fight for who we want to be in this life. Do we want to become more like the abuser? Do we want to ride the road to insanity until someone dies? At what point is it our responsibility to react differently to abuse? At what point are we culpable for the abuse that we, in reaction to others abuses, dish out?
I believe Francine Hughes was temporarily insane when she killed her husband. I believe that she didn't intend for it to end that way. I believe she was a victim of domestic violence who came to believe that the only way to escape her abuser was through his death. The thought is "insane" because it isn't true - she could have done other things to escape his abuse, but at that moment, the only answer in her mind was to kill him.
Was I on my way to becoming Francine Hughes? Are you?
You can also find Kellie on her website at Verbal Abuse Journals , and on social media at Google+, Facebook and Twitter. Buy her books from Amazon.
*Both women and men could be abusers or victims, so do not take my pronoun choices as an implication that one gender abuses and the other is victimized.