How to Explain PTSD to Your Doctor So You Get the Right Help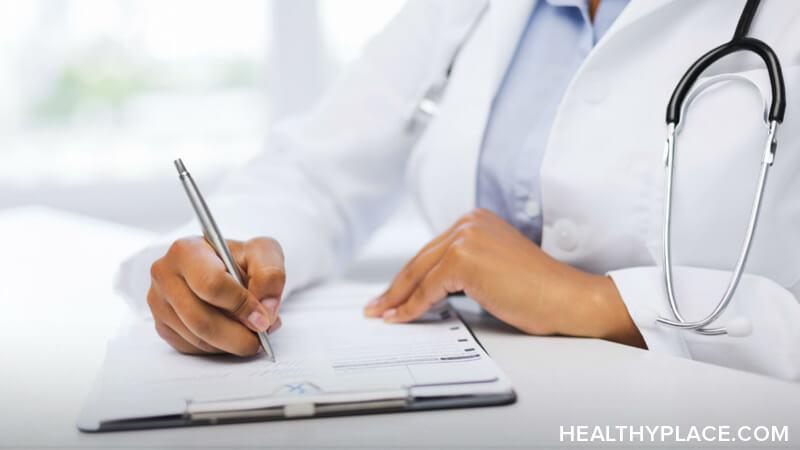 Do you know how to explain posttraumatic stress disorder (PTSD) experiences to your doctor? If you have difficulty speaking with your primary care provider about your PTSD, here are some ideas to help you explain how PTSD impacts you. Many people assume that primary care providers have experience working with individuals with PTSD, but often, primary care providers have a general knowledge of PTSD without any concrete understanding of how it impacts the daily life and health of their patients. This lack of knowledge is especially problematic when someone with PTSD avoids discussing his or her mental health with his or her medical provider. It is important to learn how to explain PTSD and its impact on your life to your doctor.
Explain PTSD Symptoms and PTSD Effects to Primary Care Providers
If you have PTSD symptoms, then you probably know that no two people experience PTSD in the same way. While primary care professionals typically receive training in mental health, they rarely have the depth of knowledge to understand all of the ways PTSD symptoms can manifest. For example, one sign of my PTSD relates to my need to feel in charge of myself. When someone throws me a curveball, and I have to change my plans, I have at times become anxious and upset very rapidly.
Imagine a physician telling you that the beneficial medication you have taken for a very long time is no longer available. Such a medicine change happened to me, and my initial reaction was to completely fall apart and have a panic attack right there in front of the doctor. A nurse came in, and there I was, wide-eyed and useless as the two of them tried to help me. They had no clue what was happening, and I am quite sure I was the one who placed them at a disadvantage by not giving them some prior information on my PTSD symptoms. It's crucial that you share as much information about your PTSD symptoms with your healthcare provider as possible.
What Should I Explain About My PTSD to My Primary Care Provider?
Since PTSD symptoms vary significantly from person to person, here is a checklist to help you determine what information to share with your physician:
Share your diagnosis, preferably by having the mental health professional you work with share the information with your physician. Don't worry, they won't send a file of therapy notes over. The Health Insurance Portability and Accountability Act, (HIPAA), prohibits a mental health professional from sharing psychotherapy notes with others without a patient's authorization.
Make a symptoms list. Keep it short. I have never met a physician who wants to read anything wordy during an exam. Do you have trouble sleeping? Write it down, and explain how PTSD directly harms your sleep schedule. Let your doctor know about panic attacks, anxiety, social difficulties, and anything else that occurs as a direct result of your PTSD. 
Include your psychiatric medications any time you are asked about medications. It is tempting to avoid sharing this information, but your primary care provider needs to know what mental health treatments you are receiving. In fact, some physicians are willing to oversee certain psychiatric medications, especially if your dosages have remained stable and you are not in crisis.
Don't be afraid to ask questions. Once, I had a physician prescribe a medication with a common side effect of anxiety. By asking if the medication would cause or worsen panic attacks, I reminded my provider that I had a preexisting condition to consider. Asking about how medications interact with your PTSD symptoms and checking on side effects of treatments is crucial. Since PTSD symptoms don't show up in a drug-interaction list, you need to be your own best advocate.
Ask your care provider about their familiarity and comfort level with PTSD symptoms. If they seem uncomfortable, or if you are uncomfortable with their response, say so. It is better to have the conversation out in the open than to have a negative relationship with a provider.
Advocate for awareness. Your provider won't know how comfortable you are interacting with him or her and the office staff unless you tell your provider. I asked my physician if she would mind putting up an informational poster regarding PTSD. It is still on her bulletin board. I also asked my dentist to mark my chart "Freaks out and dissociates if you hit a nerve." He didn't do that, but he did mark that I need extra novocaine (procaine) and additional time for it to take effect.
Explain PTSD: Your Primary Care Provider Wants to Help You Feel Better
It can be challenging to explain PTSD symptoms and their impact on your life to your primary care doctor. However, the only way to make sure you are receiving the best care for your whole-self is to make sure everyone treating you knows about all aspects of your health, and that includes mental health. While there are stories of medical professionals who are judgemental and do not interact comfortably with patients who experience a mental illness, there is only one way to discover how comfortable your provider is with patients experiencing mental health issues. Don't cheat yourself out of the best care possible. You're worth it.
Please let me know about your experiences with medical professionals and discussing your mental health with them. Are there things that make you uncomfortable or angry? How can they improve? I look forward to your comments.
APA Reference
Hollowood, T. (2018, June 6). How to Explain PTSD to Your Doctor So You Get the Right Help, HealthyPlace. Retrieved on 2023, December 11 from https://www.healthyplace.com/blogs/traumaptsdblog/2018/6/how-to-explain-ptsd-to-your-doctor-so-you-get-the-right-help
Author: Tia Hollowood
You may need help with diazepam withdrawal.This medication needs tapering. Their are community based centres with professionals who will help you..councelling is usually offered at the same time.It worked for me after 21 years on them.Get the support you need . Go to A and E if you can't find these services.
I explained that I could not have surgery or general anesthesia due to my PTSD and I explained my situation on paper to surgical staff, Anesthesiologist and doctor. All ignored me and I became combative fight or flight. It was horrible and they performed surgery while I screamed NO.
This is the sad but true reality of most GP's and many psychiatrists everywhere. Diagnosis procedures non-existent, medics who have no real clue or direct experience about the various trauma disorders and syndromes, many who cannot / uninterested in eliciting responses especially freeze type trauma survivors, communication problems, lack of empathy and support, a more cold, otherwise impersonal approach. I do not even understand why psychotherapists and counsellors who are so much better in identifying psyches, empathetic and having good insight as they treat their patients aren't allowed to diagnose or medicate, if needed.
I'm seeing a doctor at a psychiatry office. I've seen her twice now. I explained i had PTSD among other things and she asked a few questions and came to the conclusion that i was just bi-polar and i didn't need my normal medication of benzodiazepines. She put on lamictal caliming it will help. The say they don't have my previous records although I seen them for years prior to deciding I needed to go back. She said the lamictal would replace my clonazepam but it's been 2 months and I'm being as patient as I can, but I'm still having bad panic attacks and anxiety. They think I refuse to tale any SSRIs, but the truth is I cannot takethem because they turn my stomach into a knot and i can't eat and I constantly throw up. They just tell me to keep taking it and those effects will go away. Well, they don't. I'm going back this month for my 3rd visit. I'm up all night tonight because my anxiety is crazy and I'm progressively mpre and more angry because I know what's going on but i feel like I'm playing a game with them. Help.
Leave a reply