Introduction to Tia Hollowood, Author of 'Trauma! A PTSD Blog'
Hi, my name is Tia Hollowood, and I am pleased to be joining the HealthyPlace blogging community as a writer for Trauma! A PTSD Blog. My trauma started early on in life, but now I can say I'm in PTSD (posttraumatic stress disorder) recovery and I believe that sharing our experiences can help us all (Telling Your Trauma Story: Why You Really Should).
While it is my PTSD that brings me here, it does not define me. I am a fantastic mom, relentless joker, nerd, human-rights advocate, crochet diva and avid learner. My curiosity has taken me on a broad professional path having been a teacher, parenting instructor, case manager, website designer, college professor, foster parent, childcare provider, and writer.
Tia Hollowood's Undiagnosed PTSD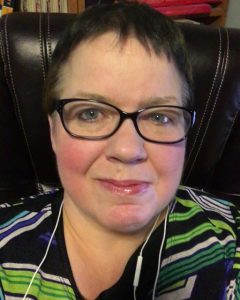 My trauma began in elementary school. My memories of those years are sparse. In my teens and young adulthood, I had a collection of symptoms including dissociation, hypervigilance, anxiety, self-destructive behaviors and low self-esteem. Having lived with these symptoms most of my life, I did not understand that they were anything other than "me." I did not know they were treatable.
In my late 20s, I experienced a dissociative fugue. With the help of those close to me, I realized I needed professional help. This is when my path to recovery began. With the help of skilled therapists and psychiatrists, I slowly learned how to treat my PTSD.
Living in Recovery from PTSD
In the years since my diagnosis, I have come to a place of strength. I am a survivor, living in recovery. There are still challenging days, and I am grateful to have the supports and coping strategies necessary to move through them. Part of my self-care is reaching out to others who share similar experiences to mine.
It is my hope that by sharing my story, others may find information, support, and validation as we continue the journey of recovery. It is amazing what we can learn from each other when we have the strength to share.
APA Reference
Hollowood, T. (2017, January 24). Introduction to Tia Hollowood, Author of 'Trauma! A PTSD Blog', HealthyPlace. Retrieved on 2023, May 31 from https://www.healthyplace.com/blogs/traumaptsdblog/2017/01/introduction-to-tia-hollowood
Author: Tia Hollowood
Thank you Tia,you worded things in a way that could have came out of my own thoughts. Nice to know it's not yourself going crazy or cold.
Hi, Tia, After reading more about your life and experience. There is so many parallels I'm finding about our lives and the Emotional Trauma and resulting PTSD. I want to thank you again for sharing your journey. I think as we continue sharing our journeys and our experience with PTSD and Emotional Trauma. That many more that suffer will find our blogs and get validation from our words and maybe seek healing as well.
Many Blessings,
Lance Pomeroy
Hi, Tia, I read your above post and I watched your YouTube Video. Your post, blog and video are an inspiration for me. I also suffer from emotional trauma and the PTSD that results from that experience. My trauma also happened when I was young, five or six years old and extended into my teens involving different circumstances and experiences. I also blocked a lot of memories of what I occurred. There was an emotional side of the trauma and also a physical trauma that I experienced. The physical part of the trauma will never be healed because of the injuries my body suffered. The emotional trauma and resulting PTSD that it caused stayed with me until I was 60 years old.
I self-medicated for over 30 years in order to cope with the emotional pain, depression and anxiety. I quite self-medicating abruptly one year ago January 2nd 2017. I had received therapy off and on over the years, but the trauma and resulting PTSD was never diagnosed, discussed or treated. There is quite a bit involved in what happened in my life journey and it's really quite a story of survival and overcoming. I'm now in the process of healing and writing in my blog, www.caringsensitiveemotionalman.com, is a huge part of my healing process.
Your post, video and blog is a huge validation for me. I always thought you had to be a veteran and suffered trauma through a war related experience. This is so not true. There are many, many veterans that suffer emotional trauma and related PTSD. But there are also many, many non-veterans that suffer from emotional trauma and PTSD that I now see all around me. Many, many of them don't understand the depression, anxiety and self medication that they experience and subject themselves to.
I want to thank you for speaking up. You have also validated my journey and all the emotional hurdles I have and are currently healing from. I will be in recovery for the rest of my life. I will also have to abstain from using alcohol or drugs for the remainder of my life as well. This is all part of my healing and I accept it as such. It is important to me to share my life journey. Like you it also helps my healing but I also have a passionate desire to help others heal. This way they won't self-medicate for as long as I did and will start healing much sooner. Like you said relating to someone who is on the path of recovery is powerful. Thank you again Tia for speaking up. I would like to help you and also help others.
Many Blessings,
Lance Pomeroy
www.caringsensitiveemotionalman.com
on Facebook and Twitter: lancepomeroy1
Thank you for sharing your story and being a voice of someone who has experienced trauma and has found a path of healing! You sharing with others who have either walked the same path or are still seeking recovery and healing, is such a gift and act of bravery. Thank you!
Leave a reply