How Does Trauma Affect the Brain?
Have you ever wondered how trauma affects the brain? It's something that I thought about a lot after being diagnosed with posttraumatic stress disorder (PTSD). I wanted (needed) to know that there was a physical reason I wasn't able to let go of the trauma, to just "get over it," like other people have done. The fact is, trauma affects the brain and some of us who suffer trauma and develop PTSD do so because our brains process trauma differently than others.
When we experience trauma, our bodies and our brains change. The brain records every sensory detail about the event, and those memories can be reactivated repeatedly. For most people this causes mood swings and disruptive dreams that diminish over time. But for those of us who develop PTSD, those symptoms worsen over time and become intrusive in our daily lives.
How the Brain Responds to Trauma
Scientists have discovered that the brain is made up of three parts: the reptilian, the mammalian, and the neomammalian. Each of these play a part in our response to trauma.
The reptilian (brain stem) part controls our survival instincts. During a traumatic experience, this part of the brain goes into reactive mode. All non-essential processes are turned off, and we go into survival mode.
The mammalian (midbrain, limbic) part of our brain processes emotions and learning, and is unique to mammals. It does not register concepts of time or logic and it evaluates everything as agreeable (pleasurable) or disagreeable (pain/distress). Survival is based on the avoidance of pain, and the repetition of pleasure.
The amygdala is located in the limbic part of our brain, and it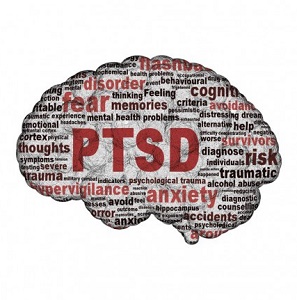 plays a part in how we process trauma. The amygdala acts as a filter, it scans the threat our reptilian brain has reacted to and decides whether or not there is a real threat. If there is not, then it allows access to the neocortex. If it signals that there is danger, then the other parts of the brain become active (specifically the thalamus, which is also in the limbic brain), and it incites one of three alarm responses in the reptilian brain: fight, flight, or freeze (Using Mindfulness in PTSD Recovery) The body then responds to the instructions of the brain.
In normal situations, when the threat has passed, the nervous system shifts the body back into its regular status by reducing stress hormones and allowing the brain to return to its normal function. However, in trauma survivors who go on to develop PTSD, the shift from reactive back to responsive doesn't happen. Instead, the reptilian brain keeps the survivor in a reactive state.
The traumatic event is never allowed access to the neomammalian brain (neocortex), which is the part of the brain that controls cognitive processing, decision-making, memory, and self-awareness. It is the part of the brain that allows us to process traumatic situations and allows us to heal. Instead, the event is held in the limbic brain, the amygdala stays in an overstimulated state, and the trauma survivor remains in a loop of constant arousal, looking for and perceiving threats everywhere.
Because the memory of the event is held in the limbic brain, which doesn't have a concept of time, events that happened 20 years ago can seem like they are happening in the present. That is why PTSD sufferers can seem like they are stuck in the past and they relive the trauma through flashbacks and nightmares.
How Does Healing Happen in the Traumatized Brain?
This all seems very complicated, at least it did to me. The good news is, you don't have to know all of the ins and outs of how the brain works to understand that as victims of trauma who have developed PTSD, our brains process (or fail to process, really) trauma differently than those who don't have PTSD, and that healing is possible (Neuroplasticity: What you Need to Know in PTSD). These two things give me great comfort when I am triggered and experiencing PTSD symptoms.
Healing in the traumatized brain happens through committing to a process of trying different treatment options designed to get the three parts of the brain to work together. Not everyone with PTSD will respond the same to specific treatments, there isn't a one-size-fits-all fix. But, in working with a therapist who understands PTSD, it is possible to decrease the effects of your trauma, and even eliminate the PTSD symptoms you are experiencing.
Find Jami on Facebook, on Twitter, on Google+, and on her blog, Sober Grace.
APA Reference
DeLoe, J. (2016, July 14). How Does Trauma Affect the Brain?, HealthyPlace. Retrieved on 2019, July 18 from https://www.healthyplace.com/blogs/traumaptsdblog/2016/07/how-does-trauma-affect-the-brain
Author: Jami DeLoe
I also had the same treatment, however it was from the WC Judge. Not only did they abuse me in the hearing, unrepresented, they changed the verbatim transcripts & then covered it up. When I exposed it, they had me arrested for trespassing in a public building attempting to get a copy of the transcripts. Never Go to a State Agency to get help, when they are the ones that have committed the wrong doing.
I so understand how you feel. Even though I won a 2 year injunction against my now ex he used that injunction against me. My story is so unbelievable I am writing a book. I found out my ex is planning to move back to the state and most likely to the same town I live in. Right now I have recently conquered my ptsd but I am deathly afraid of this man. My psychologist told me that who I was married to is a narcissist psychopath. My ex's 1st therapist figured out this man and that he was abusing me. Stay strong. Use mindfulness and stay in the present. You don't even have to be nice to your ex. Do not give him any leeway if he tries to harass or psychologically abuse you. Keep a diary. It is a MUST. The best you can do is show you are doing well and have a good life. That will bug the hell out of him. Don't give him the time of day and don't let him take residence in your mind. I wish you well!!!!
Leave a reply